Building Hype for the Homecoming Dance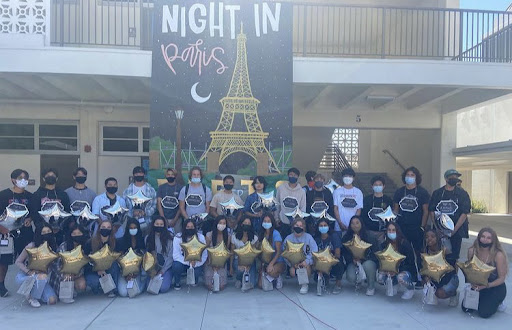 Not only were the plans and decorations being built for this year's 2021 Homecoming dance, but the excitement was too.
   Excitement for this year's dance was at an all-time high as due to the COVID-19 pandemic, last year's Homecoming dance was completely canceled along with other milestone events for West High schoolers. But this year's dance promised to deliver for students looking forward to a big step in their high school career. 
   Caydan Holly (10), who missed what could have been his first Homecoming dance in freshman year due to school closure, said, "I'm really excited to see friends there and just have a good time.
   Preparation for the dance had also been a long but exciting process. In regards to the time that it took to plan the dance, Kyle Hyunh (12), a member of ASB said,"We started planning at the beginning school, but it's been a lot more productive recently, but it's still been a constant process having to plan it."
   Part of that planning process included deciding the theme of the dance, with it later being announced as "A Night In Paris." 
   ASB member Matthew Kim (12) commented on the creative process of ASB creating the theme: "One of our members suggested it and we agreed it was a good and fun idea. We're also excited to name each section of the dance based on the theme such as 'cafe de Paris' and 'dance de France.'"
   The yearly Homecoming traditions took place a week before the dance itself but built excitement nonetheless, with the Homecoming Football Game seeing the West High's Varsity Football team hold out against the visiting Torrance Tartars 27 to seven. During the game's halftime, the much anticipated announcement over who would be the 2021 Homecoming King and Queen was made, with Elliot Kim (12) and Meileen Taw (12) being declared the winners and taking a celebratory lap in front of the grandstands in a West High golf cart.
   This year's Homecoming dance was also very unique, as instead of being held inside of the gym or pavilion, it was held outside as a result of pandemic safety measures. Serena Hopkins (12), ASB's Secretary of Spirit said, "We also want to make it as atmospheric as possible so a lot of our decorations we're trying to adapt to having them outside instead of inside to still make it look like our theme. Having everything be outside has been a challenge and trying to make it still seem themey while still being an open space." 
   The dance also represented much more for the seniors of West High as it was their final Homecoming dance and a sign that their high school days are coming to an end. 
  Emma Schwing (12) said of her final Homecoming dance, "It doesn't feel like much right now even though I'm excited, but I think when I look back on it it'll be a lot more meaningful."
  With all the planning and hard work that was put into this year's Homecoming dance as well as the excitement surrounding it, the dance promised to live up to expectations.