What Returning to School Looks Like for Elementary Schools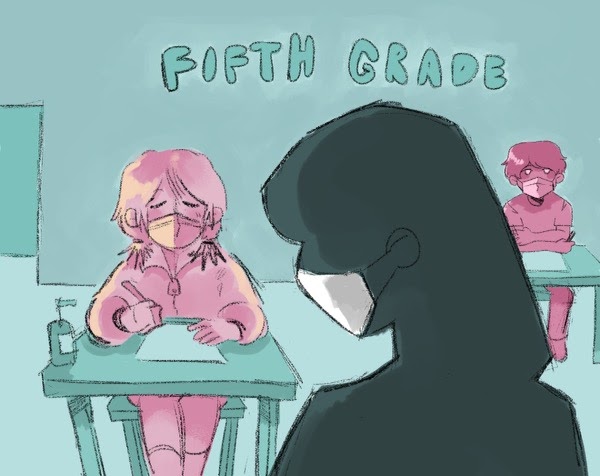 With middle and high schools on the verge of opening back up, elementary schools have been in-person for about 2 weeks now (some grades longer than others). So as you take time to understand what reopening schools will look like, let's learn how it works for K-5 students. 
   Grades 6-12 are meant to return to in-person on March 25th, all at the same time. For elementary schools, however, reopening schedules were scattered around for different grade levels. First graders, for example, returned to in-person learning in the beginning of February, whereas fifth graders returned to school towards the beginning of March. 
   Anika Agarwal (10), who has a 5th grade sibling, recounts the first day that her sister went back to school, "My sister likes talking to people, she's a social person, so the day before school reopened she was excited [to see her friends]." During this time, many students missed out on the opportunity to gain social skills, and even Dr. Mary Beth Miotto, a pediatrician and vice chairwoman of the Committee Massachusetts Medical Society, believes that sending kids to school can be scary, but is "developmentally important."
   Even with the reopening, COVID-19 safety protocols still need to be maintained. Mr. Cheung, an English teacher at West whose daughter returned to in-person learning, said that there were new protocols in place and that these new rules and regulations were explained via Parents' Meetings: "the principal went over all the procedures: dropping kids off, the screening process, and the gate temperature checks" and he emphasized that a "lot of the communication was done through emails." These regulations were put strictly into place, as Agarwal described: "the playground is closed off…everything is so organized, the teachers are taking care of sanitizing and cleaning." 
   Overall, it's quite clear that things have been running smoothly for those who returned to in-person learning, despite the regulations and new protocols. Mr. Cheung and Agarwal, both, contribute this success to the teachers. As Agarwal said, "the teachers are putting in a lot of effort to bring the students back, and are constantly making sure that the students are comfortable and safe…a big shout out to all those teachers who are doing the best that they can for their students!" 
   If anything, we can learn from K-5 who returned to school and are seeming to enjoy their time interacting with students, teachers, and just being back on their school campus.