Tiny Homes With a Large Impact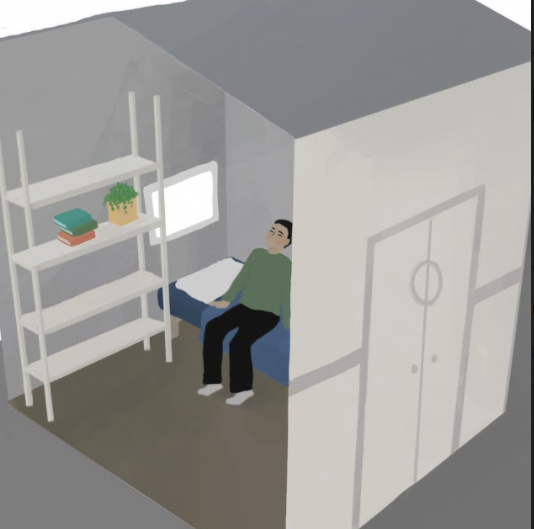 According to the Los Angeles Homeless Services Authority, over 66,000 people in Los Angeles County are experiencing homelessness. This was a 12.7% increase from last year. But many are standing up to fix this issue. With various shelters, thrift stores, and resource centers, Hope of the Valley Rescue Mission aims to end the worsening homelessness crisis. On February 1st, this non-profit organization took another step to fulfill this goal by opening Los Angeles' first tiny home community in North Hollywood. 
   40 homes now stand along Chandler Street, each including two beds, heating, air-conditioning, a small desk, a locking door, and a personalized message to welcome their stay. Residents aged 18 and up are allowed to live for free with no time limit as long as they are actively working towards permanent housing elsewhere. 
   The site also offers meals, showers, various mental health services, job training, and house navigation to help their residents achieve a better future. Hope of the Valley Rescue's CEO Ken Craft said permanent housing can typically be found within four to six months, though this may vary due to the pandemic. 
   Sending Love Club Co-President Samantha Jiao (10) works with her team to raise awareness of homelessness in Los Angeles, along with donating cards and plushies to the Family Promise Homeless Shelter. Upon hearing the news, Jiao predicts this will have a great impact on the homeless population. "There are many homeless people in the world that are just looking for a little help to get back on their feet," she expressed."The tiny homes allow people to start living instead of just always trying to survive."
   Considering the urgent state the world is in, especially with new strains of COVID-19 being discovered, the homeless population is being struck with difficulties. Elizabeth Libertor (11), who has done prior research on tiny homes, explained, "I imagine it must be both emotionally straining and physically endangering because they can't 'stay home.'" She makes it clear that this group will be increasingly vulnerable to the virus at this time. Jiao added, "They have to spend their already low amount of money on masks and hand sanitizer… Right now is the time to lend them a hand." Both students found that these homes could immensely help the community in these upcoming months. 
   After the announcement of this tiny homes project in August last year, these tiny homes have been criticized for multiple reasons, including their size. Some questioned how these tiny homes were expected to fit two full-grown adults. But Libertor argued that the homes are meant to be temporary, which explains their small size. She also compared these tiny homes with those she researched for an architecture project: "These tiny homes are in the $3,000 range, which is on the cheap side compared to what I've seen during my own tiny homes project." Libertor explained that if these homes were any larger, people would be less likely to sponsor the project due to the price. 
   Another criticism Hope of the Valley Rescue Mission received was from a group called the LA Alliance For Human Rights, which accused public officials of moving too slowly to help those experiencing homelessness. For instance, Torrance's homelessness population had risen 47% last year, and has been steadily increasing over the past five despite the resources the city has tried implementing through money and taxes. Jiao claims that more should be done to lower this number: "People with authority to do so should lend a hand to the homeless by giving out masks, or providing shelters like the tiny homes." 
   Thankfully, Hope of the Valley Rescue Mission isn't planning to stop after establishing the Chandler Street Tiny Homes. In the next year, they plan to purchase five more tiny home communities, the earliest being scheduled to open in April which offers 103 additional homes for those in need. Hope of the Valley strives to expand and grow throughout 2021 in hopes of moving people from freeway overpasses to welcoming communities.