Spring Sports Glow Rally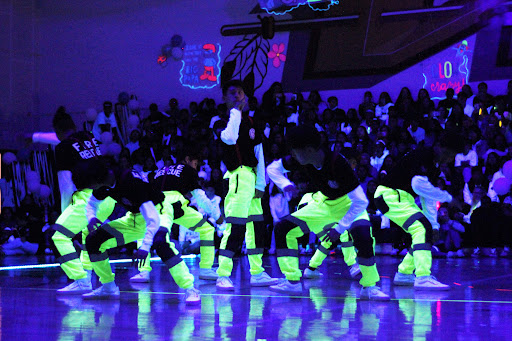 West High celebrated spring sports and school spirit at the Glow Rally on Friday, March 6th.  Students wore their class colors in fluorescent tones to stand out in the dark.  ASB organized several performances and the spring season's sports were introduced.
"The glow rally is very special to ASB," Sophomore Vice President Robbie Murata (10) said.  "We love having themed rallies, since they give the classes a specific idea of how to decorate.  We've been preparing for it for the past couple of months."
ASB's preparation for the rally was extensive: months were spent buying fluorescent paint and decorations, planning activities, and testing lighting countless times.  Plenty of time and effort go into making sure each rally runs smoothly.
The rally opened with an announcement of spring sports: boys golf, boys tennis, swim, track, boys volleyball, softball, and baseball.  Following spring sports was ASB's surprise performance ― a lightsaber fight between classes.
The lightsaber fight was a favorite for ASB as well as audience members.  Both Murata and Sophomore President Meileen Taw (10) expressed the most excitement for the surprise performance.
Additionally, Advanced Dance performed a hip-hop number, "Blessed," from the West High Dance Department's most recent show in January.  Featuring all Advanced Dance members in neon green, the dance was January Show's closer as well as a favorite for the Dance Department.
After a dodgeball game and a tricycle race, the rally ended with a performance by the All Male Drill team.  The piece was a competition set for the small All Male team; it has been performed at various games and competitions throughout the year.  The firefighter-themed dance had been in the works since June of last year.
All Male member Joseph Kim (10) commented, "The best part of performing was being able to see our costumes glow in the dark and to be able to perform in front of our own school."
As all of West High's rallies end, the spring Glow Rally concluded with West High's alma mater as students joined in with their friends and classmates in expressing school spirit.
"I hope the students will enjoy rallies and its festivities," Taw added.  "It's a fun time where all the classes can come together to show our school spirit!"