Trump Administration Announces E-Cigarette Flavor Ban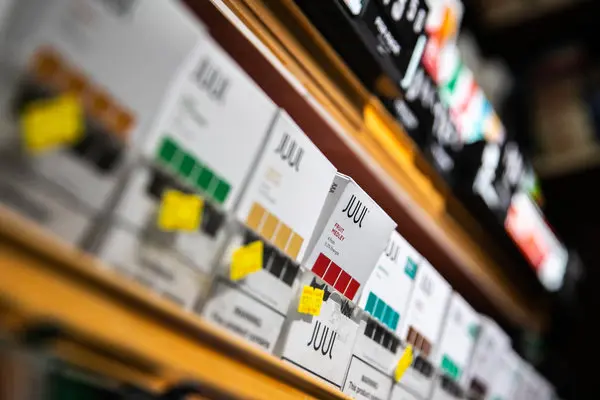 As concern for underage vaping continues to mount, the Trump administration announced on January 2nd that certain flavored e-cigarette pods would be pulled from the market temporarily.  The plan to ban flavors such as mint and fruit is a step back from the administration's previously announced plan in September, which would have been a more thorough ban of nearly all e-cigarette flavors.
   Excluded from the ban are tobacco and menthol-flavored cartridges and open-tank systems sold in vape shops, which are not as popular with kids as other flavors are.
   Several public health groups have spoken out in anger, disappointed that the Trump administration chose to appease the vape industry instead of implementing a more strict plan. In particular, many were unhappy that menthol was excluded from the flavor ban.
   Matthew Myers, president of Tobacco-Free Kids, said, "This is a totally preventable crisis because we have solutions and first and foremost the solution is to sweep the market entirely of all flavored e-cigarettes."
   Like Myers, others believe that banning certain flavors will only drive teenagers to switch to tobacco and menthol-flavored e-cigarette pods.  They maintain that a comprehensive ban of all flavors is the simplest solution to the underage vaping issue.
   West High speech and debate member, Shrutika Ezhil (10), commented, "On one side, I'm glad that the Trump administration has at least taken a step towards preventing this vaping epidemic amongst teens.  But then again, if he isn't going to ban all the flavors just so that these businesses are somewhat pleased, then we know what Trump sees as more important."
   Similarly, fellow speech and debate member Lindsey Kim (12) expressed her disappointment in the decision, and said, "The Trump administration has managed to disappoint the American public in almost every single dealing they've had with corporate problems."
   The FDA has given manufacturers 30 days to take flavored vaping products off the market before taking action against them.  With the compromising ban, it is difficult to say if there will be any change in vaping habits among teens.