Trader Joe's Supports Study Snacks!
    Trader Joe's. The Trader Joe's. A place of hopes, dreams, and sweets. A place of comfort, snacks, and awesomely-made newsletters. They have some of the best study snacks for students who want to munch on a little something while still being able to get work done. We at Smokes Signals had an inside experience of the favorite snacks and treats courtesy of an actual Trader Joe's manager. While she wanted to keep her identity a secret, the snacks she showed us were so good that keeping those a secret would be a crime. #notsponsored 
   Crispy Crunchy Mochi Rice Nuggets were the first item on her list. They are small bite-sized pieces of mochi (glutinous rice cakes) that have been dried, fried, and lightly salted to create a crunchy snack fit for anyone. These are perfect to eat while typing a paper or studying for a math test, and at $2.99 a bag, they won't hurt your wallet either. 
    Apple Cider Cookies were next and let me tell you, were pretty amazing. These tiny spiced apple cider flavored cookies are the literal definition of fall. Made with numerous spices and apple flavors, the manager praised them highly and even felt like they might become a Trader Joe's staple soon. The 14 ounce package is being sold for $3.99.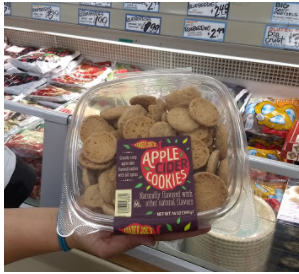 Fried Mac and Cheese Balls
+Carolina gold barbeque sauce 
For people who don't mind taking a couple minutes to bake their food, these Mac and Cheese balls are the way to go. These 7-cheese, breaded balls are a warm, gooey snack, great for a cold day. And according to our manager, these cheesy balls of heaven go great with the sweet and smoky Carolina gold barbeque sauce found in the sauce aisle. You can get these Mac and Cheese bites for $3.99.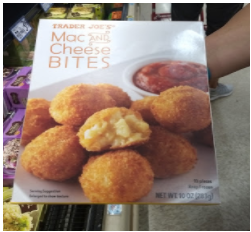 Organic Cold Pressed Spiced Fuji Apple Cider was one of the drinks that the manager felt was extremely important for us to know. She described them as being "perfectly sweet and spice and refreshing." They are made with fresh Fuji apples and fall spices to make an energizing drink. They are being sold for $1.99 for a 12 oz. bottle.
     Maple and Sea Salt Kettle Corn is exactly what it sounds like. Kettle corn tossed in a light sprinkle of sea salt and a light sugar maple glaze. Sweet and salty, this snack is both satisfying and easy to eat during late-night cram sessions. They are being sold for $2.49 a bag.
      And there it is. A short, sweet list of study snacks made for any sleep-deprived student who needs energy to study for their next test or sustenance to get through their stacks of homework. Have fun shopping!