Synagogue Shooting in Poway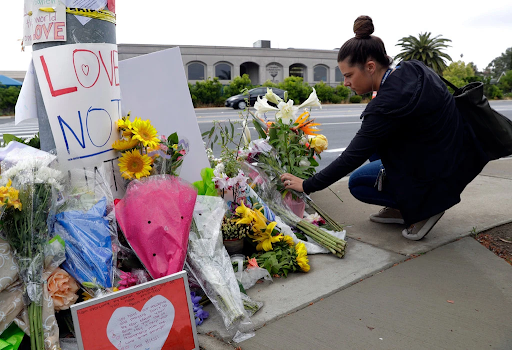 On Saturday, April 27th, a shooter opened fire on a synagogue in Poway, California.  This act of anti-Semitism ended a life, wounded others, and left the synagogue and the city in shock in the aftermath of violence.
Saturday marked the last day of Passover, with the Chabad of Poway synagogue fuller than usual.  A little before noon, the shooter entered with an AR-15 gun, yelling anti-Semitic slurs, firing at a rabbi, a 60-year-old woman, and wounding others, including a 9-year-old girl.  Rabbi Yisroel Goldstein attempted to talk to the shooter, but was shot in both hands as the shooter continued to open fire.  Lori Kaye jumped in front of the rabbi to protect him and was fatally shot.
Later, in a press conference, the rabbi recalled, "Lori and I have known each other for over 25 years… She was the ultimate woman of kindness and it's unfathomable, why this beautiful, beautiful, wonderful human being would be shot down."
In addition to Goldstein and Kaye, 9-year-old Noya Dahan and Almog Peretz were both wounded by shrapnel.
The shooter was identified as John Earnest, a 19-year-old man from San Diego.  On Sunday, April 28th, Earnest was charged with one count of murder and three counts of attempted murder.  Officials are determining if he is also the author of an anti-Semitic manifesto, which was posted online prior to the shooting.  The author of the post counts the mosque shooting in Christchurch, New Zealand and the synagogue shooting in Pittsburgh as inspiration.  They also claim to be responsible for a fire in a mosque in Escondido.
The shooter drove away after his gun malfunctioned; then he surrendered to the police.  In the wake of the shooting, Goldstein wrapped his arm and bleeding fingers in a prayer shawl, stood on a chair, and continued to preach as the congregation awaited authorities.  "We are a Jewish nation that will stand tall," he said, "we will not let anyone or anything take us down.  Terrorism like this will not take us down."
Though this act of anti-Semitism left the city of Poway shaken, people everywhere were affected by the hate crime.
In reaction to hearing the news, Orie Piken (9), said, "I [felt] disgusted because I am Jewish, and it really makes this seem personal."
In a wider scope, the synagogue shooting is reigniting discussion across the nation and the world about growing anti-Semitism and increasing violence.  Just a week ago, a Sri Lanka church was bombed; a month ago was the Christchurch mosque shooting, and six months ago was the Pittsburgh synagogue shooting.  Now, religious leaders must think about securing churches, mosques, synagogues, and other religious spaces.
"It definitely makes me rather upset that these events continue to occur," Emily Fink (9) commented.  "We shouldn't have to be worried or afraid to step out of our households and into our religious locations.  As of now, we need to make sure these issues are attended to by those of whom we trust."
In the aftermath of such a tragedy, grief and hopelessness seem to persist.  It seems that the Poway synagogue shooting is just another in a series of hate crimes, that hate has become so prevalent.  But in a hurting, mourning time, as Rabbi Goldstein remarked to his congregation, "A little bit of light pushes away a lot of darkness.  We need a lot of light now… Let us show these terrorists, let us show these evil, wicked people, they will not do anything to hinder us from being proud Jews, and for being proud people walking the freedom of America."