Week One of West's 2019 Class Olympics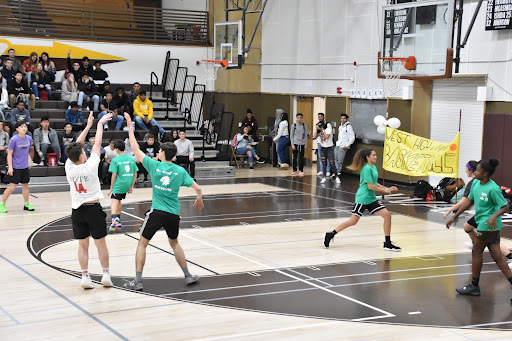 On the second week of April, West High's classes competed in the school's 2019 class Olympics. From Monday to Friday, student representatives competed in the first set of events: track, badminton, slip-n-slide, Super Smash Bros, and basketball.
The Olympics kicked off with an opening ceremony during lunch on Monday, April 25th. It was followed by the first event, track. Juniors and sophomores took the lead with ten points each, followed by seniors with five points, and then freshmen with one point.
The start to the Olympics was successful and students had high spirits for the rest of the competition.
One track competitor, Tyler Vo (9), remarked, "I think my team [and] I did pretty good for being freshmen and I had a really fun experience talking to the other runners and just having fun in general."
On Tuesday, students competed in badminton, with freshmen winning the lunch's event. The day ended with sophomores pulling into the lead, followed by freshmen, juniors, and seniors.
The freshmen win was a surprise to everyone, including the freshmen student players. Stefan Cutovic (9), who played for the freshmen, commented, "We did great, better than expected! We knew, as incoming freshmen, that we probably weren't going to do well in the Olympics… we would win maybe one round but didn't expect to win the entire event.  It was surreal."
Wednesday's event was slip-n-slide, with seniors taking their first win, making the overall ranking with juniors and sophomores in first with twenty-five points, then seniors with twenty-one, and lastly freshmen with seventeen points.
Day four of the Olympics was a Super Smash Bros competition, with juniors pulling into first in both the event and overall competition.  Following them were the seniors, sophomores, and freshmen.
Wrapping up week one of the West's Olympics was basketball on Friday.  The final scores for the end of the week had juniors in first place with fifty points, seniors with forty-six, sophomores with thirty-two, and freshmen with twenty.
The first week of West's 2019 Olympics concluded successfully, with juniors leading.  There were some surprising results, but the student competitors are moving into the second week with spirit and energy.