Student Survivor of Parkland School Shooting Commits Suicide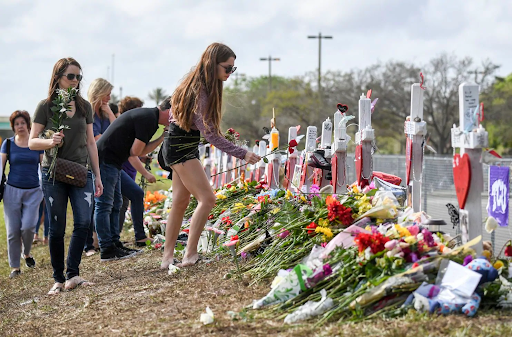 In Parkland, Florida, a student survivor of the 2018 shooting committed suicide.  The student took their life on March 23rd, and was the second student survivor in a week to commit suicide.
The student, not publicly identified, died in what police say is a suicide.  They attended Marjory Stoneman Douglas High School in Parkland, Florida, the site of the 2018 shooting that claimed seventeen lives.  Police spokesman Officer Tyler Reik confirmed the suicide, and said that it was still under investigation.
March 23rd marked the second suicide to occur in that week―only six days before, another survivor of the shooting, Sydney Aiello, took her life. Aiello was an alumna of Marjory Stoneman Douglas High School, and was attending Florida Atlantic University.  According to her mother, Aiello was diagnosed with post-traumatic stress disorder and struggled with survivor's guilt.  Her best friend, Meadow Pollack, died in the shooting.
Meadow Pollack's brother, Hunter Pollack, tweeted on Friday, "It was devastating to bury another beautiful young person in Parkland today.  Our community is going through tragedy again…Rest in peace, Sydney.  Please take care of my sister."
2018's massacre occurred on February 14th, when a gunman opened fire on the high school.   The shooter confessed and was indicted in seventeen counts of murder, but the trauma of the massacre still lingers in Parkland, Florida.
Parkland Mayor Christine Hunschofsky expressed, "We have these documentary film people coming and saying, 'Oh the community is coming together,' and kind of putting a beautiful bow on it.  And there's a lot of good going on in our community.  But we cannot ignore what else is happening."
The suicides are prompting discussion around mental health, school shootings, and gun control. Beyond Parkland, students all around the nation and the world have joined to advocate for change.
Abby Newhart (9), a supporter of gun control laws, said, "After so long, the horrible effects of the shooting have continued.  Events like these cause lasting damage and change must occur!"
According to police, the connection between the shooting and the unidentified student's suicide is unknown. Still, just a year after the event of the massacre, Parkland grieves for the lost lives of two students.
In reaction to the news, Bhaavana Anna (9) said, "One's actions play a role in others' actions to follow.  Whether the cause for commiting suicide was or was not because of not very good mental stability, it was caused because of the shooter's actions."
If you or someone you know is at risk of suicide, you can call the U.S. National Suicide Prevention Lifeline at 800-273-8255 (TALK).