Jussie Smollett's Hoax Plan Backfires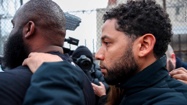 Famous Empire actor, Jussie Smollett, has allegedly been using his acting skills offscreen to play out being victimized in a Chicago attack. His plan was intended to boost his publicity but ended up backfiring. He was charged for filing a fake police report, going from victim to criminal. His arrest over disorderly conduct was made on Thursday, February 21st.
  Chicago police reported that Smollett hired two brothers to attack him in an attempt to enhance his social profile since he was dissatisfied with his $20,000 per episode salary on the Fox show.
  Upon hearing Smollett's intentions, Shruti Penumarti (9) said, "It would make sense for Smollett to be upset if he was being paid peanuts, but considering how much he was receiving, he needs to be more humble and not cause national controversies by going out of his way to fake an attack."
  Superintendent Eddie T. Johnson stated that about $3,500 was paid to the brothers for orchestrating the crime. The men wore masks and Smollett had presumably made sure the neighborhood security cameras would record the event beforehand.                                      
  Smollett had asserted after the "crime" that the two men had attacked him on the morning of January 29th by wrapping a noose around him, pouring bleach, and yelling racist and homophobic slurs at him.
  Chicago police eventually found the two brothers and after an interviewing process, they began speculating Smollett's honesty.
  Smollett did not change his stance of being the victim after his arrest. His attorney defended Smollett's silence by saying, "Like any other citizen, Mr. Smollett enjoys the presumption of innocence, particularly when there has been an investigation like this one where information, both true and false, has been repeatedly leaked."  
  Initially, after the attack, many celebrities and politicians joined to Smollett's support until fingers started being pointed at Smollett himself. Afterward, there was silence until Smollett's co-star, Terrence Howard, spoke out on the matter.
  Howard came to Smollett's defense and commented, "Stay in your lane and my lane is empathy and love and compassion for someone I've called my son for five years. It's God's job to judge and it's ours to love and hope, especially for those that we claim to have loved."
  Smollett hoped the attack would bring support for him from LGBT activists and black leaders. O.J. Simpson had similarly used the race card when he was on trial by meeting with civil rights activists who gave him support and helped him gain an acquittal.
  Smollett tried Simpson's approach, but it is not working as well as he would hope. In fact, quite the opposite occurred as both LGBT and Blacks have turned against him for staging an event and also "ruining" Black history month as some have said. They backlashed him for "crying wolf" and using his race and sexuality to do so. Black and gay advocates argue that their race and sexuality should be defended, rather than victimized.
  Rules seemed to have changed for celebrities hoping they can get out of trouble with their identity. Daibik Chakraborty (12) a member of the West debate team, read the issue and said, "These fake crimes will undermine real acts of prejudice occurring against minority groups. It's important for people to realize the intensity of these actions as they have a large impact on the lives of people of different backgrounds."
  President Trump also addressed the incident in a tweet where he made up his own awards category on the night of the Oscars labeled "Best performance in a politically motivated hate crime hoax." In the post, Trump nominated Smollett for the "Academy Award," along with Christine Blasey Ford who had testified against Kavanaugh in a Supreme Court case, and the Native American activist Nathan Phillips who was inappropriately confronted by a group of Catholic school students.
  Unfortunately for the actor, Fox has cut him from the last two remaining episodes of the current season due to the arrest. Further information is yet to be revealed on whether or not Smollett will be facing jail time for his "hate" crime plan.