Plane Crashes Outside of LA, Five Killed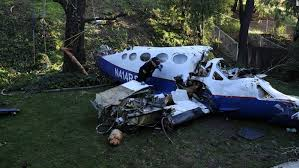 On Sunday, February 3rd, a small plane came apart, scattering debris across a Southern Californian neighborhood and sparking a house fire before landing in a backyard. Five people died and two more were injured as a result of the crash.
  In addition to the two men and two women who died in the house fire, the male pilot, the only person in the twin-engine plane, also passed away.
  An Anaheim resident and student at Cal State Fullerton witnessed the incident and reported, "It was around 1:40 pm on a Sunday afternoon. I was driving home when all of a sudden I looked up at the sky and saw something explode into flames and fall to the ground with smoke trailing behind it. Once I got home, I could see more clearly that it seemed to have landed in a nearby neighborhood, causing a fire."
  Yorba Linda, the city where the crash took place, is only thirty-four miles southeast of Los Angeles. The Cessna 414A that was involved in the crash had taken off from the Fullerton Municipal Airport, approximately twelve miles away from the crash sight.
  Isha Pendem (11) stated, "I've always seen incidents happen far from where I live, but it's crazy to think that something this tragic happened so close."
  The two-story house that caught on fire was reportedly hosting a Superbowl party when it was struck by the main cabin and one of the engines of the plane. The second engine fell in the street, lodging itself in the asphalt.
  A video posted on Twitter showed the aftermath of the incident as panicked neighbors ran into the street, watching the house being devoured by flames and black smoke. It shows one man using a garden hose to extinguish the flames of a burning wing that had landed in the street.     
  Chaturika Bandara (10) stated, "It's terrifying to know that something like this happened so close to where we live. I honestly don't know how I would've reacted in this type of situation."
  Firefighters were able to extinguish the house fire with the help of rain from a winter storm. Pokey Sanchez, an assistant chief with the Orange County Fire Authority, stated that authorities planned to continue searching the burned house for any additional victims.
  As the investigation continues on, many residents of the neighborhood have expressed their worries about the safety of their neighborhood as a result of this incident. Hopefully, measures will be taken to prevent incidents like this from ever happening again.