Writing Letters to Change Lives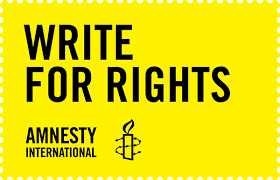 Write for Rights, hosted by Amnesty International, is the largest annual human rights campaign. Amnesty International is a global organization that advocates for human rights and works to bring about positive change every day. This year, the focus of the campaign is on 11 cases of women human rights defenders under threat. Even though the campaign ends on January 31st, there have already been 49, 289 letters written in the US for these women who have risked and sacrificed their lives in order to create a better and fairer world.
  Among these women is Marielle Franco, who was killed while working for a brighter future for Rio de Janeiro. She advocated for equal rights and opportunities for people of all races and spoke out against unlawful killings by police. In order to silence her, she was shot to death in her car, along with her driver, Anderson Gomes.
  Although many are unaware, this is quite a common pattern in Brazil. In 2017 alone, at least 70 human rights defenders were killed for speaking up for themselves and others. One of the goals of this year's campaign is to convince the President of Brazil to investigate Franco's death and bring her killers to justice.
  Uzair Pasta (11) states, "The opposite of love is not hate, it's apathy. We need to realize that this world is not filled with bad people, but people that won't stand up in the face of darkness and fear. However, there are people such as Franco and organization such as Amnesty International that shine a light that we should all work together to protect."
  Another human rights defender that is currently suffering because of harassment and threats for her work is Awad, a Sudanese refugee and activist seeking to resettle in the United States. However, due to the Trump administration's continuing attempts to end the U.S. Refugee Resettlement Program, she is unable to find a safe place to live. The campaign is hoping to convince the Chargé d' Affaires of the U.S. Embassy in Cairo to help Awad resettle in the U.S. so that her safety will no longer be in jeopardy because of her human rights advocacy.
  Yet another young woman who has faced persecution due to her work of empowering youth is Geraldine Chacón. Chacón has been harassed by authorities for working to encourage young people in Venezuela to stand up for their human rights. At one point, she was imprisoned for four months and has been banned from leaving the country. Since her case has not been closed yet, she could be arrested once again at any time for no legitimate reason. Through this campaign thousands of people have written to Venezuela's Attorney General asking for the case against Chacón to be closed.
  Muniza Ahmed (11) stated, "It is easy for us to ignore what is happening around us and subject certain injustices as just the way things go, however, we need to understand that women are facing drastic suppression in response to speaking out for their rights. It is important to be active in helping give these women their voice and ensuring they are not suppressed for doing so."
  Originally, this year's campaign began with a focus on 11 cases of human rights violations. Due to the success of the campaign and the immense support that these women received from all around the world, one of those cases has been resolved before the campaign has even ended. Me Nam, also known as "mother Mushroom" is one of Vietnam's most influential bloggers and speaks out against police brutality and environmental issue. In June 2017 she was sentenced to 10 years in prison for creating propaganda against the government. Through this campaign, thousands of people all around the globe demanded for her to be released and on October 17th, that is exactly what happened.
  Amnesty International hopes that by the end of this year's campaign, all 11 cases will be successful.
About the Writer
Ulia Zaman, Staff Writer
Ulia Zaman is a Staff Writer for Smoke Signals and a junior at West High. She is lively and passionate about all the activities she is involved in. She has participated in the Speech and Debate team for three years and loves to express her creativities in different ways.