Yearbook Ads Due 3/1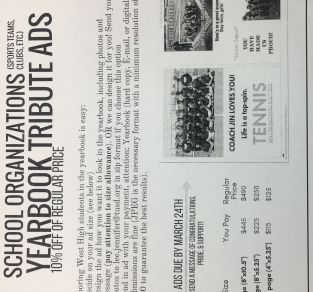 Interested in sending off a senior with an honorary mention?  The Yearbook Staff is offering you a chance to place a tribute ad in the 2017 Yearbook.  
 There is no better time–ads are 10% off regular price. A full page ad (8" x 10.5") is $445, a half page ad (8" x 5.25") is $225, and a quarter page ad (4" x 5.25") is $115.  Payments can be made in cash, check (paid to West High), WHS club account transfer, or credit card.  
  You can design your own ad with pictures and a message, or you can have the yearbook staff design it. With the second option, photos can be sent to [email protected] in zip format, while the finished submissions can be sent in JPEG format (with a minimum resolution of 300).  All ads are due by March 24th.  
  Disclaimer: The Yearbook staff has the right to remove any inappropriate items from the ads, including any statements or images relating to sex, drugs, gangs, or racism.  Messages must be in English unless a translation is provided.  Ad space is limited and on a first come, first serve basis.
  If you have any questions, contact the Advisor, Jennifer Lee, at (310) 533-4299 ext. 7758 or [email protected].