Torture On Facebook Live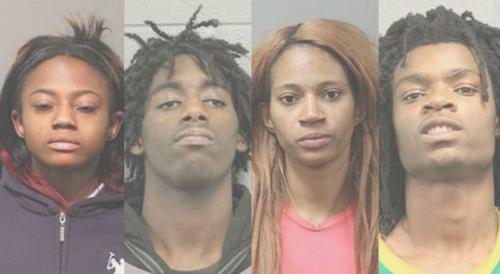 Four black teenagers are expected to face hate crime charges after binding, assaulting, and gagging a young white man who police have described as "mentally challenged." The incident happened on January 5th in Chicago, and police arrested the suspects late Wednesday.
  The victim was found disoriented, and wandering the streets where he was eventually found by police. He managed to escape his tormentors when a next door neighbor threatened to call 911 over noise coming from the captors' apartment.
  In the live video shot using Facebook's new feature, the man's wrists were bound and his mouth taped shut while his assailants shout racial slurs and sliced at his clothes with a knife. One person even taps ash from a cigarette on an open wound on top of the man's head.
  Among the many taunts and insults, the main phrase that was used was "(Expletive) white people and (expletive) Donald Trump!" This was most likely referring to the 2016 election and its results.
  The teen's brother-in-law, David Boyd, spoke briefly with reporters on Thursday night.
  "We're so grateful for all the prayers and efforts that led to the safe return of our brother. We're fully aware of the charges being brought against the offenders. At this time, we ask for continued prayers for all those involved, for our family's privacy as we cope and heal," Boyd said, reading a statement.
  Boyd also told the media that the the teen is doing well and recovering as best he can. He also said that his family has seen the video, but did not elaborate further on it.
  Cmdr. Kevin Duffin of the Chicago Police Department said, "We are doing everything we can to help this young man and his family. The teens responsible for this attack will be charged on account of his diminishing mental capacity, and the racial epithets heard on the video."
  "It's always sad to hear about this kind of behavior," says Niko DeCastro (11) "I don't understand how some people can still have that kind of attitude in this day and age. I thought we were beyond that."
  While the physical and mental damage caused by these aggressors may never truly heal, a GoFundMe campaign in support of the family has raised over $100,000 and is still receiving donations. If you want to help out, you can visit https://www.gofundme.com/lets-show-the-chicago-victim-love.