200% Positivity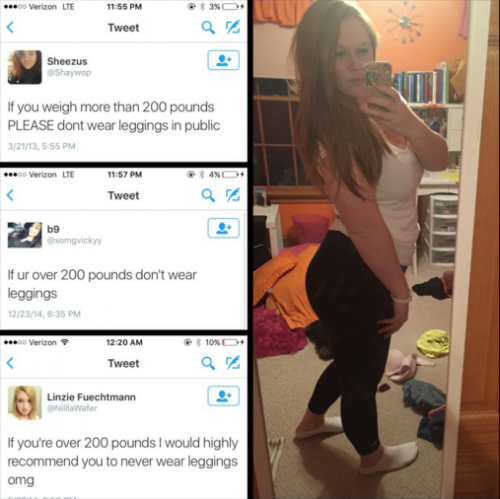 Issa Sy, Staff Writer
March 30, 2016
  Fat-shaming has become one of the popular controversial topics discussed publicly on social media but was captured in a new perspective by Sara Petty.  
  Women often feel self-conscious about wearing only clothes for certain body types. One girl had enough of reading the unnecessarily heavy criticism, plastered all over social media, directed towards these women.  When Sara Petty, a 20-year-old student attending Bowling Green State University based in Sunbury, Ohio, read the endless threads of various tweets repeatedly shaming girls weighing over 200 pounds  for wearing skin-revealing attire like bikinis, she decided to speak proudly of who she was.  The four photos posted by Sara Petty wearing the "unacceptable" articles of clothing on Twitter were immediately flooded with hurtful comments that went viral on every social media platform.
  "It's really messed up how people talk trash and judge you based on what you wear or your weight.  You can do whatever you want as long as you've got confidence in yourself," said Julie Le (11).  It's not an uncommon gripe when it comes to girls who aren't considered "skinny" by society to receive hate for wearing crop tops, leggings, bikinis, and booty shorts – typically anything that shows more skin and doesn't look "sexy" in public eye.
  Some people with eating disorders struggle with limiting daily weigh-ins without checking repeatedly afterwards..  Developing this unhealthy obsession can eventually lead to living a miserable lifestyle waiting for a certain number to appear.  According to the National Institute of Diabetes and Digestive and Kidney Diseases,  about 31.8% of the human population is overweight and 16.9% is considered obese.  As these numbers on the charts continue to increase, these particular individuals face disadvantages and overflowing amounts of hate by people on the internet and/or in the real world.
  The concept of weight stigma or bias revolves around people fat-shaming others for their weight and body type.  This can branch from the stereotypical assumptions of laziness being the cause of obesity to being social outcasts eliminating the chance of a happy lifestyle.  Ranging from verbal teasing, physical bullying, and purposeful exclusion, the outcome (depending on the degree of severity) often leads up to the same place whether it's developing a depressive illness or attempting to commit suicide.
"A 2003 survey reported 13.5 percent of high school students as obese.  In the United States, conservative estimates indicate that, after puberty, 5-10 million girls and women and 1 million boys and men are struggling with eating disorders including anorexia, bulimia, binge eating disorder, or borderline conditions," reported Prevent Bullying Now, a non profit organization empowering youth to be a part of the solution to bullying.
  "I also hope that girls are able to separate who they are from the number that shows up on the scale, and realize there is no number, high or low, that dictates if you're worthy of feeling beautiful," Sara Petty wrote to Huffington Post.  Just like the labels of harsh judgements given to others, a person's numbers shouldn't define them.