Rallying it Up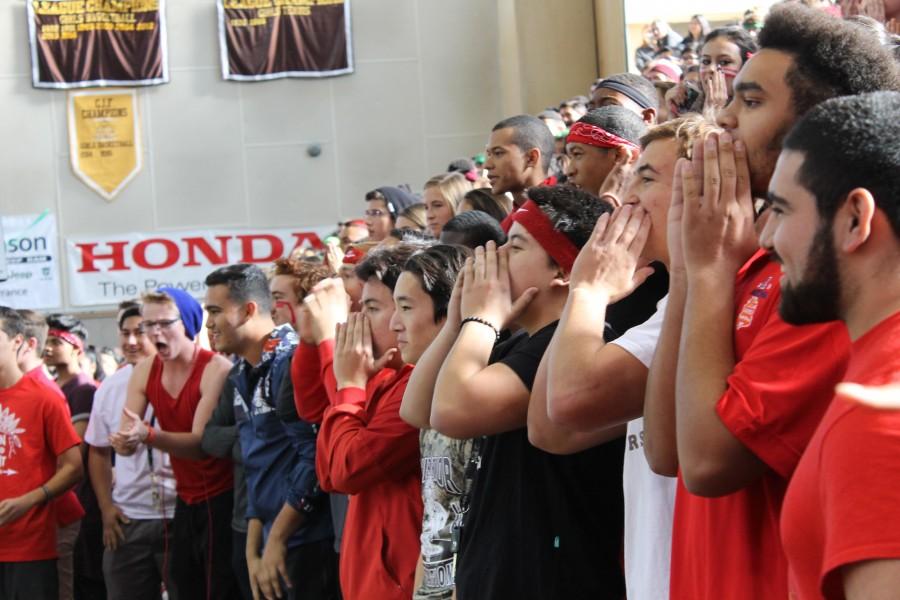 Clothes, face paint, bandanas, beaded necklaces, and even red, green, blue, and purple tutus were bursting throughout the hallways of West High last Friday. Meaning one thing… Rally day!
    The gym stands were filled with excited students ready for an entertaining twenty-five minutes (or to simply leave class) during the 2016 Winter Sports rally. Despite the enthusiasm, senior class president Peter Song (12), did not think people were as excited for the rally as usual. Song said, "The rally went okay, but not as well as [ASB] had hoped for. There was no chanting this time. I guess we needed to publicize more."
    Disagreeing with Song, Brandon Harrison (10) said, "The rally was fun. The dance performance was great and it was fun to see the volunteers struggle during the game."
    With band playing its signature tune (The Chop) in the background, varsity athletes from the winter sports were given recognition for their performance this season. They were also given words of encouragement from Secretary of Spirit, Alanna Bledman (12), in order to finish off their season strong. The winter sports marched into the auditorium in the following order: Girls Water Polo, Girls Wrestling, Boys Wrestling, Boys Basketball, Girls Basketball, Girls Soccer, and Boys Soccer.
    Bledman then introduced the Juggernauts, a dance crew coached by Mrs. Burt's son, Adam Burt. Bledman did not have a single doubt in the crew and said, "I know the performance will be unbelievable." Brandon Hong (9) agreed with Bledman that the performance was strong and said, "The Juggernauts were the best part of the rally. They were all amazing dancers.You can tell they love what they do."
    After the performance was the intense class competition. The gist of the game was to score a goal with a dodgeball while only using a pool noodle in under thirty seconds. Each grade had eight student representatives that participated in the game. The teams went head on for thirty seconds, trying desperately to score a goal for their class. In the end, the seniors ended up winning the game with three points. Juniors came in second with two points and Sophomores and Freshmen tied with no points. Cheerleader, Madelynn Kushida (10) thought the game was boring and said she "wished it would have been more entertaining, or better planned."
    The next rally will be coming up during the Spring. ASB hopes that the Spring rally will be more entertaining and hope that more students will participate.