Chipotle E. Coli Found in Oregon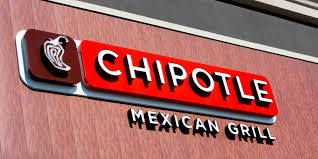 Even if Chipotle is your life, you may want to rethink the next time you get a chicken bowl with guac. This 1,700 branch company has been struggling this week due to an outbreak of E. Coli.
There have been about 20 reported outbreaks in Oregon and Washington, but no reported deaths thus far. They have since closed down 43 of their branches in selected areas after multiple reports of sickness from eating Chipotle. This is Chipotle's third report of food-borne illness since August, but each time the company has reacted quickly and efficiently to identify and stop the viruses from spreading.
The stock of Chipotle has dropped 5% since the outbreak, but is expected to quickly rise again once they re-open the branches. A regular Chipotle goer, Eddie Black, states he "was very anxious to get back, [he] thinks they make good, clean food" and that this outbreak was normal for every company to go through once in awhile. He, like many believe right now would be the safest time to go because of the recent cleaning.
Two of the customers have become seriously ill from the restaurant and are now suing the company for the "damages the company has caused". The company, however, are going to be opening the branches up again this week as they feel the threat has been neutralized and has since passed.
According to the CDC, "Chipotle was taking the right actions in closing and cleaning its outlets." This allowed for the threat to leave as well as the community to calm down from the scare of a virus spreading further.
Donna Gordon, writer for the Associated Press states that the outbreak was just a "tiny fraction of about 48 million cases of foodborne disease that occur in the U.S. each year." This issue with Chipotle is not uncommon, or truly harmful. E. Coli is not known to cause death, although it can be fatal in a few rare cases.
Because the spread was nowhere near Torrance, it would be safe to grab a quick rice bowl for dinner. Restaurants are constantly under attack from viruses that may pop up and Chipotle is no exception. Some advice would just be to be aware of what you eat and you'll stay healthy!
About the Contributor
Ysabella Atehortua, Editor-in-Chief
Bio: Ysabella Atehortua is a Senior at West High school and has been in Journalism for three years now. Her passion is environmental studies and hopes...