The Haunting in Room 3100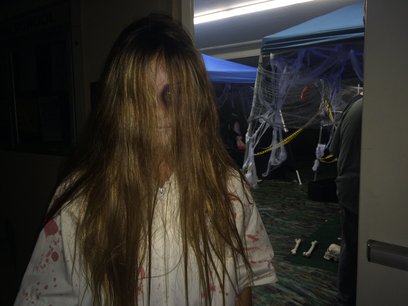 Twas the night before Halloween and all through the dance room, lurked ghosts, clowns, & frights for all who came to visit. It was the night of the Dance Department's annual haunted house!
Ms. V's beginning, intermediate, and advanced dance classes all worked together to transform the dance room into a spooky, ghoulish maze.
"We started brain storming in September and were really pleased with the results," commented Alyssa Sack (12). The decorations, make up, costumes and performances were all done by the students, with some help from some parents.
"We were really happy with the turnout," said Brittney Sanchez (11), "we had over 200 people come to visit!"
The maze began at the far door of the dance room's locker room, near the building three stair case. Red lights and a menacing clown waited at the door. "I don't get scared that easily, but wow the clowns really freaked me out," said Samantha Cho (11).
Following the clown encounter were terrifying apparitions- dance department girls dressed in dark clothes, messy hair, and scary make-up. According to Britney Acosta (11), the girls looked "unrecognizably frightening" in their costumes.
The girls were scattered throughout the room siting at tables, standing against the walls, clanking chains and even playing with a  ouija board. "I thought it was pretty scary," said Nick Salunga (10), "a lot of the girls would pop out of nowhere and scream; definitely the scariest part."
The dance department was very happy with the success of the haunted house and hopes that all who came enjoyed their time. "I had a lot more fun than I thought I would," said Cho, "I am really looking forward to going again next year."