Top 15 Rally Recap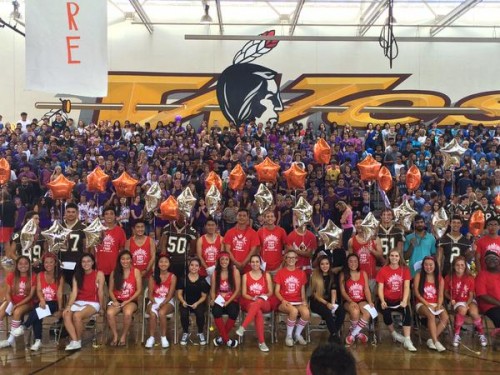 Brightly colored monochrome outfits, accompanied by headbands, face paint, beaded necklaces, bandanas, and other embellishments, can only mean one thing: rally day.
"Go home, Freshmen!", "Go home, Sophomores!", "Drop out, Seniors!", "Let's go, (insert grade level here)," were several of the numerous chants volleyed across the gym Friday afternoon amidst the Homecoming Top 15 Rally as each class was asked to raise the decibel level and show that they had the most spirit. Making sure that things did not get out of hand while keeping the rally exciting, Secretary of Spirit Alanna Bledman (12) asserted her rules to the crowd: "One, keep things respectful, and two, stay turnt," concise instructions met with cheers from the crowd.
Fall Sports Recognized
With band playing climactic music in the background, Varsity athletes from the fall sports (Cheerleading, Girls' Tennis, Girls' Golf, Girls' Volleyball, Boys' Water Polo, Football, and Girls' and Boys' Cross Country) were showcased and applauded for their performances thus far this season. Football asked for support at their upcoming game, which would be at home later in the evening, and Cross Country asked for support at a meet taking place at West as well, a week, on October 14th.
Getting Social with Social Media
ASB then announced two social media campaigns for students to participate in.
The first was for a pair of free tickets, which could be able to be earned by sharing on Instagram a post of one's Homecoming asking, hashtagged with #westhc2015. The second was for a competition amongst the rest of the Torrance schools to prove which had the most spirit, in which students had to post and tag their most spirited posts on any sort of social media with the accompanying hashtags #warriorspirit and #sportsdesk, for a segment hosted by the Torrance CitiCable Sports Desk.
Drill Team and All Male
Dance, consisting of Drill Team and All Male emerged from the back entrances of the gym, and began their piece posed in a stance of prayer. In all black attire, they captured the crowd's attention as they performed an elaborate routine choreographed to a medley of You Can Do it by Ice Cube for the first part by Co-ed dance, then Water Dance by Chris Porter and Closer by Pitbull for the second part by All Male, and finally Jungle Bae by Skrillex with Co Ed once again.
"This is what I like to call the TUSD Dance Policy"
Next up was the class competition, which was a Homecoming-themed, three-part task. The first part consisted of the male "dressing up" his date with a full toilet paper roll. After this task was completed, the female then "takes off" her dress of toilet paper while the male gets his ride (a tricycle, because how else are they going to get to the dance?) to the cone and back, and then in the final stage of task, aptly titled "The TUSD Dance Policy," pairs hold balloons solely with their chests, hands behind their backs, to the cone and back. Seniors, represented by Sofia Santos (12) and Nathan Lima (12) came in first, followed by the juniors, freshmen, and sophomores
Homecoming theme revealed…
Performing the classic Homecoming Play Prod skit, this year's drama department capitalized on resident twins Wade Mc Elhaney (11) and Weston Mc Elhaney (11) by having them play two versions of the same character. With the pair, Play Prod altered the ending to Dorky Dora's and Dashing Danny's homecoming predicament, with the future version of Dashing Danny appearing to tell the present version of Dashing Danny to ask Dorky Dora regardless of whatever apprehension he had at the time. This served as the perfect tie in, as the moment future Danny urged present Danny to "go Back to the Future!" was the same moment during which banners were simultaneously unrolled by ASB senior officers Justine Hu (12) and Peter Song (12), with others to help release balloons from the rafters, officializing the Homecoming theme announcement.
Top 15 Announced
Finally, as per tradition, Coach Holt read the names of seniors who were apart of the Homecoming Top 15, a group consisting of people which were chosen on the basis of a combination of student and teacher votes.
The girls' Top 15 were: Jessica Adachi, Reiko Yoshizawa, Erica Choe, Justine Hu, Yuri Yim, Justine Mendoza, Joanne Kim, Lauren Irie, Alyssa Sack, Kiersten Stafford, Emily Evans, Riko Suzuki, Kaley Mozzell, Emily Atkinson, and Alanna Bledman.
The boys' Top 15 were: Juan Ortiz, Luis Aguiar, Chris Hsiao, Peter Song, Nathan Lima, Ryota Nishishiba, Steven Guillen, Yousef Baddour, Scotty Kingham, Ethan Ramos, Brandon Wolfson, John Giradini, Nadir Akhtar, Bobby Fujioka, and Christian Angeles.
Nadir Akhtar was promptly called out for being the only one amongst all of the Top 15 for not wearing red.
Afterwards, because of safety concerns relating to the previous year's seniors and broken benches due to the impact of their stomping, the Class of 2016 was invited from the stands to stand on the floor of the gym for the final activity of the rally. For a moment, the gym was a slowly rolling sea of red, purple, green, and blue as Warriors came together once again to sing the Alma Mater.