They Are the Five Percent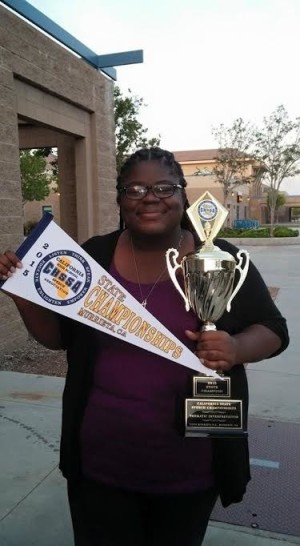 Last weekend, 13 of West High School's Speech and Debate team could be found dressed in business attire talking to walls. Why? They were taking some final moments to rehearse their competition pieces for the state tournament.
From April 17 to April 19, West High debaters attended the California High School Speech Association Speech and Debate State Tournament. The tournament took place at Vista Murrieta High School in Murrieta, California. Participants were Ryan Mills (11) in Dramatic Interpretation, Erica Suh (12) and Reiko Yoshizawa (11) in Duo Interpretation, Lekha Adari (11), Aseel Ali (11), and Sidra Masood (10) in Oratorical Interpretation, Adiba Majumder (10) in Original Advocacy, Alanna Bledman (11) in Thematic Interpretation, Nadir Akhtar (11),  Noah Choi (11), Shivani Ganti (11), and Michael Nishida (11), in Policy Debate, and Young-Woo Cho (11) in Student Congress as Presiding Officer.
Their performance at the tournament earned the team a sweepstakes award of 18th place, the top 5% of all California Schools, for the first time in West High history. Among those who broke past preliminary rounds were Choi and Nishida who placed 28th in Policy Debate, Yoshizawa  and Suh who placed 17th in Duo Interpretation, Cho who placed fourth as Presiding Officer in Student Congress, and Alanna Bledman who placed first in Thematic Interpretation.
Over 100 schools participated in the tournament and the number of entries per category ranged from 56 to 90, with the exception of Student Congress Presiding Officers (12 entries). The number of competitors alone might have seemed daunting to the West High debaters.
Indeed, Yoshizawa said, "When I went to state champs last year and saw how phenomenal all the other Duos were, I was extremely intimidated and thought I could never be like them. All the performances were obviously well-practiced and clean-cut."
Nishida added, "The competition was very fierce, but just like the District tournaments, some people are more prepared than others."
The topic for Policy Debate was development and exploration of the ocean. Meanwhile, many of those in speech events this year performed emotional pieces featuring various social issues. Yoshizawa and Suh performed "Awakenings," a story about a doctor who attempts to bring a patient out of a vegetative state, which results in serious side effects. Masood performed a speech about a father who lost his son because he was gay. Bledman performed a trio of pieces about black beauty.
"I chose this because it was something I believe the world forgets—to show care for black people, especially when it comes to black beauty," said Bledman.
In order to prepare for the competitions, the Speech and Debate team members performed their pieces in front of the class for feedback. Some members, like Yoshizawa and Suh, had additional experience with performance being in Play Production. However, the most important part was practice. "I worked for hours straight until I lost my voice on many occasions. I just worked for what I wanted and received it in return," said Bledman.
Bledman competed against 56 other people in Thematic Interpretation. She said, "It [still] feels like another trophy at another tournament. It hasn't quite hit me just how big of an accomplishment this is."
Now that the state tournament is over, West High Speech and Debate is beginning to prepare pieces for next year. For information about joining, contact [email protected]