Following the Trend: School Lip Dubs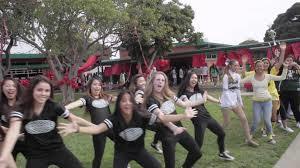 In addition to rallies, banners, and Club Rush, South High School's ASB found another way to celebrate its student body clubs and organizations.
On March 11th, The South High ASB channel on YouTube released a video titled "South High School Lip Dub 2015– Uptown Funk." As of March 18th, it has 31,000 views and over 500 likes. Filmed by student Tariq Mihlar (12), the video features students dressed in class colors and their respective club uniforms lip syncing to "Uptown Funk," by Mark Ronson featuring Bruno Mars. The video begins with a quick pan of the school buildings. Then, the front doors open to reveal South High surfers singing; behind them is a flurry of dancing South students with various flags, banners, and even confetti. Some of the represented groups are Speech and Debate, Advanced Dance, Basketball, and Marching Band. The video ends with a rally in the South High gym.
South High is not the first school to promote its activities with a lip dub video.
"It's pretty cool," said Grace Qian (12) about the South lip dub. "I [also] saw Arcadia's last year and it was really well-coordinated and turned out great, and it would be cool if we could do one of those."
Other schools in the South Bay region that have released a lip dub on YouTube are Palos Verdes High School, Peninsula High School, and Redondo Union High School, and now South High School. Robbi Pintado (11) thinks West should follow their lead. "It's definitely a way to show off our school, and it could be a remembrance for the students of 2015," he said. However, Pintado adds, "It looks like a lot of planning."
Organizing the student body with a population of roughly 2,000 would certainly be complicated. Aaron Barlin (12), ASB member, noted that it is being considered. However, "It'll only be successful if the school as a whole wants to do it," he said.
"I think it would promote school unification and spirit, and I've already heard a lot of people saying that they'd be interested in doing it…I think they'd react positively," said Qian.
Though it might take extensive planning and coordination, the positive reactions to South's video on YouTube as well as demonstrated interest from some West High warriors in this trend suggest that perhaps it's time to embrace this new outlet for school spirit.
To watch South High's lip dub video, visit: https://www.youtube.com/watch?v=TZmZQXqP9j0