The State of the Union: Where We Stand and Where to Go Next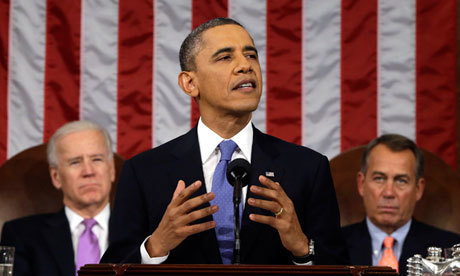 President Obama is entering the lame duck period, the time in which his term is drawing to a close. With elections for the next president approaching quickly, the President has limited time to either coast or to pass more difficult pieces of legislation.
Obama delivered his 6th State of the Union address on January 6th, reviewing last year and stating his main objectives for this year. His speech was delivered in his signature style; he winked at the audience and made a couple of lighthearted jokes. Obama focused primarily on education reform and middle class economics.
West High School student Haseeb Khan (12) argues, "Obama's most notable accomplishment this year is the improvement of the economy."
Surely enough, Obama spent a good majority of his traditional speech reflecting on the current economic state, noting that unemployment is at an all-time low since the beginning of the recession and reminding Americans of the new normalized relations with Cuba (that could lead to an increase in trade). Obama also discussed where he wants to lead the country's economy next; "middle class economics" was the buzzword of the night. Obama explained his plans to continue helping the middle class, make childcare more accessible so that both parents can hold jobs, establish equal pay for men and women, and help states form legislation to guarantee paid sick leave and paid maternity leave.
Uyen Bui (12) commends Obama's current plans that would benefit working class teenagers, specifically his proposed legislation to guarantee two years of free community college for all high school students. The only requirement is a 2.5 GPA in high school.
"I think it would really benefit those people who are in tough financial situations but still want some college education," said Bui.
The Obama administration has been focusing on education. In his speech, the President stated that the high school graduation rate was at an all-time high this year and more Americans finished college than ever before.
President Obama accomplished significant reform in both education and economics, but West High student Edward Huh (11) argues that one area was left out.
"I think the neglect of the immigration topic was his biggest failure," said Huh. "He pushed it to the last of the list while there are many immigrants in the U.S. [The Executive Order on Immigration] came too late since it should be given to America over time like medicine; not all at once…like an overdose."
With obvious accomplishments and room for improvement, the American people are wondering what Obama will do, and should do, next. To put it simply, there are two possible approaches: to put forth easy-to-pass legislation, or to take a risky approach with more controversial legislation.
Bui and Khan argue that Obama should use this opportunity to take risks.
"Compromises just mean no one is happy, Obama should be trying to pass legislation that will help the nation regardless of how one or both parties view it," said Khan.
"We can't keep staying in our comfort zones," adds Bui.
However, Huh thinks this strategy could be counterproductive. "Anything too risky could just end badly," he said.
The State of the Union address, however, indicated that Obama is willing to go either way.