Je Suis Charlie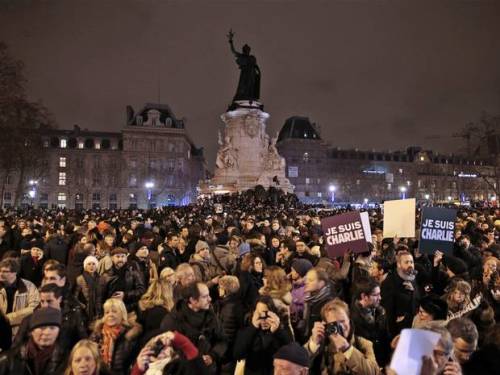 France has been the topic of discussion for the past week due to a terrorist attack towards the satirical, French newspaper Charlie Hebdo. Numerous news outlets claim that the motive of the attack was revenge for the creation of political cartoons and satiric articles that portrayed the Islamic Prophet Muhammed in a negative way. According to CBC News, Islamic extremists murdered 20 people at the Charlie Hebdo building, putting the world on full alert. In response, on January 11, 2015 a march was held in France against terrorism called "Je Suis Charlie".
An estimated 3.7 million people attended the march and were accompanied by major leaders around the world. French President, Francois Hollande led the march with fellow international leaders: British Prime Minister David Cameron, German Chancellor, Angela Merkel, Spanish Prime Minister, Mariano Rajoy, and surprisingly, Palestinian Prime Minister Mahmoud Abbal, and Isreali Prime Minister, Benjamin Netnyahu. Many criticized the United States when a representative of low ranking was sent to represent the U.S. instead of President Obama himself.
    Morgan Taylor (11) said, "it was disrespectful for the U.S not to show their support since the French are our biggest allies and they have been for decades." His absence can be credited to the lack of security available to him on such short notice.
Despite the absence of America's leader, "Je Suis Charlie" garnered millions of supporters from all around the world according to CNN. People also held signs in support of the late police officers that read "We are all cops".
Additionally, social media company, Snapchat, hosted a live story of the "Je Suis Charlie" march for everyone in the world who could not make it to see. Vanne Leah Dapitan (12) said, "it was cool to see them spread awareness with the use of such a popular social media app." Snapchat's coverage of the march helped spread awareness of the movement against terrorism to the world's younger generation.
   Nicole Serna (11) said, "terrorism has been going on so long and I'm glad that the world is finally taking a step to end it."
The Charlie Hebdo attack shocked the world and reminded that  terrorism remains a legitimate threat and problem.