Incomplete Elements Rocks the Battle of the Bands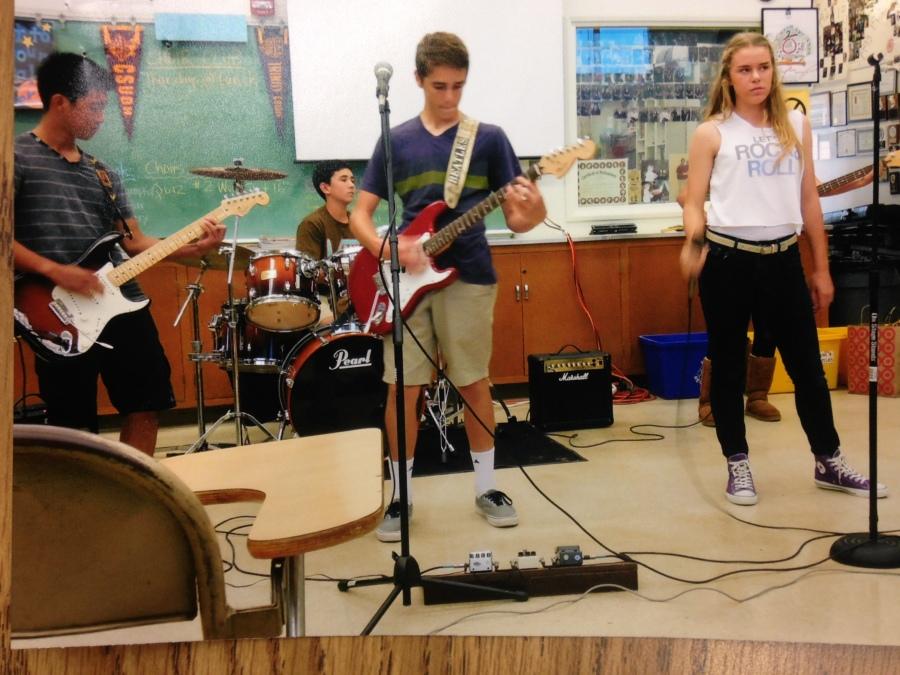 The Five-man band, Incomplete Elements, won Battle of the Bands last Friday night.  The performance was hosted at the gym, and was sponsored by The Choir Club.
Numerous bands auditioned to perform on Friday.  Three bands earned their spots in West High's Battle of the Bands.  "There's some pretty good competition this year," said Ashley Jimenez (11), one of the judges for the auditions.
The Quacking Goats was the only freshmen band featured this year.  The Quacking Goats featured Gus Eckert (9) on guitar, Trey Gasset (9) on drums, Dan Iwamiya (9) on saxophone, and Caleb Terrill (9) on keyboard. Cameron Amintinat (9) was the lead vocalist and lead guitarist.  The band played great music.  They wrote most of their songs, and were the only band that featured a woodwind instrument.  The saxophone even had a solo in their performance of "Old Time Rock and Roll," by Bob Seger.  The band claimed that they were inspired by all aspects of rock, from classic to alternative and beyond.
"I didn't really feel nervous, but I did feel a little intimidated by the other bands," said Amintinat.
While they placed 3rd, the band was impressed with their progress.  "A shout out to the Quacking Goats for getting into the Battle of the Bands as freshmen," Amintinat wanted to say.  They plan on doing it again next year, if they can.
The Emilies, who placed in 2nd, have been competing for a few years.  The Emilies featured Kaleb Davies (12) on vocals and guitar, Emily Evans (11) on vocals and bass, and Emily Robinson (12) on drums.  The Emilies claim to be inspired by the embodiment of the teenage spirit, as reflected in their song "Only the Cool Kids Know."
Davies said,  "I feel kind of sad [that this is my last year], but as a whole, it feels complete."
The winning band was the Incomplete Elements, which featured Kelly O'Neill (10) on vocals, Matt Etherington (10) on drums, Brady O'Neill on guitar, Daniel Parr (10) on bass, and Kotaro Ueoka on guitar. "I feel awesome, like I'm on top of the world, " Kelly O'Neill said.  "We want to do this again."
"We're inspired by old rock, classical rock, like Guns n Roses," said O'Neill.  The band played two classic songs, "Daytripper," by The Beatles and "Stairway To Heaven," by Led Zeppelin.  They also performed an original song, "It's Over," written by Daniel Parr and Brady O'Neill, and closed with "Still Into You," by Paramore.
Even though Battle of the Bands is over this year, it's not too late to start preparing for next year.  The Battle of the Bands committee especially thanks Choir Club for all their hard work in putting the event together, as well as the West High Custodial Crew for their hard work in making the West tradition possible.