Gabriel Kreiswirth: A Painted Memory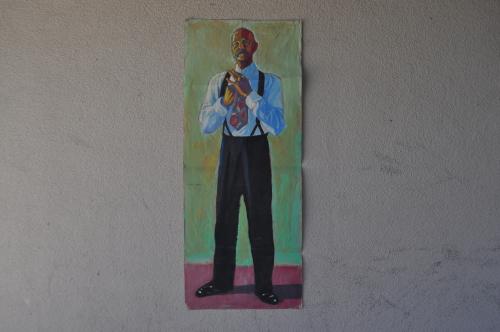 On September 6, 2014 we lost the beloved teacher, artist, father and grandfather Gabriel Nathan Kreiswirth. He was born on Long Island, New York on November 25, 1935 but later moved to Pasadena. He received a Bachelor's degree in English at UCLA. Later on he attended California State University of Long Beach to earn a Master of Fine Arts degree. Mr. Kreiswirth was best known as the art teacher at West for thirty years but, before dabbling in art he was a writer. In the beginning he was a police reporter for Mirror News and also wrote the afternoon paper for the L.A Times. He later started teaching journalism at West, but would realize his true calling and teach art.
Mr. Kreiswirth, an amazing teacher, was so experienced with art, and had so much to teach his students. At the start of the school year some of his students did not like him because of his strict teaching methods, but after graduating they looked back and realized that his goal was to help them improve as artists. Even teachers were inspired by him.
  Mrs. Lange met Mr. Kreiswirth during her first year teaching because she was going to be taking over the art department. She described him as a man with a "crusty outside but a heart of gold on the inside." An accurate description, although he was strict and grumpy, he truly cared about everyone around him. He was dedicated to art and was very talented as well. His art pieces are simply breathtaking and everyone who has seen them can agree. Mr. Kreiswirth was a modest man and always believed he could improve his art and this is what shaped the art department into what it is today. Mrs. Lange recalled a memory with Mr. Kreiswirth and she said "I actually had to prove myself to him that I was an artist." He cared so much about his department and wasn't willing to let it into the hands of someone he didn't know.
Good friend and fellow teacher Mrs. Jensen had very fond memories and she remembers her friend as a kind man who always had a sparkle in his eyes. Leaving such a great impression on her, she spoke about his genuine soul and kind heart. Mrs. Jensen said "he spoke his mind whether it was popular or not." Telling the truth and not conforming were two big ideals for him and he taught his students to live by these ideals as well. Leaving such an impression on the students and teachers, Mr. Kreiswirth's memory will forever live on at West.