Apple's War Across Two Fronts
  How often do students look up during class and see a fellow classmate texting on their phone or sending a snapchat? According to an article on USA Today, psychologist Larry Rosen has rightly labeled our generation as the iGeneration. Students here at West without smartphones tend to be the minority.
  We can remember that Apple's hyped up iPhone 5  turned out to be a major disappointment. The main improvement versus the iPhone 4S was the half-inch bigger screen. On September 10th, Apple officially stated it was releasing the iPhone 5C and iPhone 5S. Visually, these products are very different from their predecessors. The iPhone 5C will be available in 5 colors: blue, green, yellow, pink, and white while the iPhone 5S will be available in standard black, a champagne gold, and space grey. Only the iPhone 5C will be available for pre-orders starting September 13th with both phones going in-stores on September 20th.

  The main benefit of the iPhone 5 is cost. Apple appears to be reaching out to a different group of consumers by putting a lower cost on the iPhone 5C. According to money.msn.com, the iPhone 5C will cost $99 US dollars for the 16GB and $199 for the 32GB version. Potential buyers, do not despair. Just because the iPhone 5C will cost less does not mean it is inferior to the iPhone 5. Apple emphasized that though it looks playful, the iPhone 5C is still equal in performance to the iPhone 5.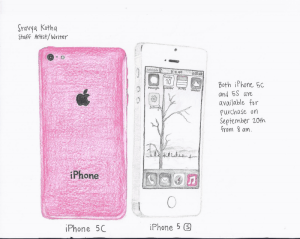 For those who are looking for the next big thing, your answer may be the iPhone 5S. The iPhone 5S has a 64-bit, A7  processor which will be 40 times faster than the original iPhone according to Apple. Robert Lee (11) stated that a complaint he had with his iPhone 5 was "after one year of using it, it started to lag". This new processor is expected to solve problems like those of Lee's. According to Apple's Vice President of Software Engineering Craig Federigh, the 5S will come with IOS 7 which has 200 new features. However, the most impressive improvement is that it comes with fingerprint recognition that Apple is calling "Touch ID" which is built right into the home button. Apple claimed that users can make iTunes purchases simply by using fingerprint authentication. "Touch ID" is a creative solution towards passwords and will undoubtedly be a useful addition to iPhones.
  Apple appears to be staging a war across two fronts; trying to make cheaper products and create more innovative phones. Maybe the 5C and 5S will pave the way for the mobile industry, or maybe it will just be another improvement to smartphones.