Nine Things to Thank Ms.Nami For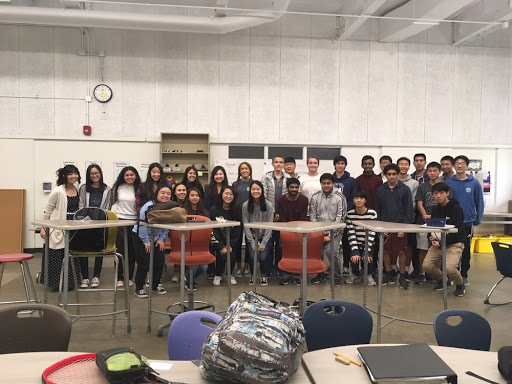 Ms. Namigata has been teaching Physics Regular and AP Physics classes at West High for many years. She is a strong, joyful, and empowering woman and teacher that has inspired countless students to pursue their dreams. After helping so many of her students, she has finally deciding to do something for herself and further her education by pursuing a Masters. Although, she will no longer be able to teach at West, all of her students are excited for her to begin the next stage of her life and wish her the best of luck!
1. Knowledge
Serena Jiao (12) stated, "I'd like to thank Ms. Nami for her unconditional support. I am so grateful that I was able to have her as one of my teachers, and she truly has inspired me to always give my best and pursue things that I'm passionate about. She has always supported me on my endeavors and constantly took the opportunity to put in encouraging words. So thank you, Ms. Nami. Thank you. I am going to miss you so much, and I am so excited for you too."
2. Inspiration
Lindsey Kim (11) shared, "Even though I usually dislike STEM courses, including science and math, Physics this year with Ms. Namigata was less than painful. She's perpetually optimistic, endlessly happy, and nothing can put a damper on her spirit. Not only is she exceptionally kind, she teaches well and has a wealth of knowledge to
share with her students. Most of all, she realized a rare thing for teachers: how to truly connect with her students. Ms. Namigata is a great teacher, but I have no doubt she'll be a great student as well when she pursues a higher degree. Her inspiring attitude will stay with me for a long time."
3. Support
Stacy Wong (11) revealed, "I'm sad that Ms. Nami is leaving but I'm glad has the opportunity to be better than she already is with doing what she loves. She has taught me so much and has brought positivity into gloomy days. Even when she does leave, I will only be happy for her imprint on West as well as her motivation and willingness to teach well. Her afterschool office hours is not only a place to get more help but it is a place where I can spend more time with the genuine Ms. Nami, and it simply shows how dedicated of a teacher she really is. I can't wait to see what she does in the future, because I know it will be great. Have fun and live your best life becoming Dr. Nami, Ms. Nami."
4. Motivation
Isha Pendem (11) expressed, "I've been in her class for two years and each has been wonderful. She does not only teach, but also motivates her students to do better in not just her class but in life in general. After the first two AP Physics tests I was losing a lot of confidence in myself, and she talked with me multiple times to find out what was wrong and help me work through it. Now, I am doing so much better in not only her class, but with my mental health as well. Ms. Nami takes her job as an educator to the next level-any school would greatly benefit by employing even one teacher like her."
5. Mindful
Kendall Kirio (11), Vice President of Mindful, conveyed her gratitude to Ms. Namigata: "Ms. Nami has always been so supportive of Mindful. We couldn't have started the club without her help. She has been so kind in making our club members feel welcome in her room. Her unquestioned support really helped the board as we have worked to grow the club over the last three years. Just hearing her tell me that she loved a presentation that I gave really meant a lot to me. Everyone in Mindful is going to miss her, but we're glad she's going somewhere to become even more amazing. Thanks for all your support Ms. Nami! We wouldn't be here without you."
6. Advice
Uzair Pasta (11) voiced, "Ms. Namigata is such an amazing person, and I will never forget her amazing advice to never be afraid of being unapologetically yourself. Although it is said that one of West High's best teachers are leaving, I know it's the right decision because Ms. Namigata has to fulfill her life dreams as well."
7. Thank You for Being Enthusiastic
Melanie Mikkelson (11), a Physics AP student, stated, "Ms. Nami's excitement for what we were doing each day would transcend to all her students. Whether we were doing a complex lab, just taking notes on a lecture, or even taking a test, we always looked forward to being in class every day.  Her enthusiasm would make us excited for the day ahead, and her constant reminder of how she believed in all of us and was proud of us would help us keep working hard, even when the stress levels were high. Thank you for always keeping the atmosphere happy, and enabling us to do our best!"
8. Thank You for Putting in Effort
Hannah Logo (11) is upset to see Ms. Namigata go, expressing "I'm really sad to see Ms. Nami go because she's been such a great teacher to the physics kids. She has taught me so much and has always been there when I needed any help. I'm excited for her to move on to different opportunities and adventures, and I wish her the best!
9. Thank You for Caring
Serena Rupani (11), a physics regular student, voiced, "I'm very sad that Ms. Nami is leaving West. I think she's one of the best teachers at West and has taught me so much. She not only genuinely cares about her students but she's highly motivated, patient, and intelligent. I think, beyond her knowledge of physics, she's so inspirational as a person. At the same time I'm so happy for her for following her dreams and I know she will be successful. Though she'll be dearly missed I wish her the best for her future endeavors. Thank you for being an amazing teacher!"