A Book for the Ages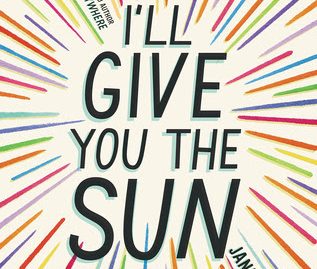 It is very rare to find a book that is filled to the brim with beautiful metaphors and captivating characters, but also includes a storyline that immerses you into the pages itself. From front to back, Jandy Nelson's I'll Give You the Sun is a novel that is pertinent to everyone.
  Fraternal twins Noah and Jude are both young striving artists living in a world in which their creativity is challenged by the ever important opinion of their mother. Acting out of jealousy due to the other's talent, their bond gradually steps into the shadows. The two seem to be on separate ends of the spectrum: Jude is pining after boys yet hides her brilliant art, while Noah secures himself into a social shell, letting his artistic style flow. Yet it all comes to a halt as a life changing accident occurs to the both of them, leaving them even more stranded without the other.
  The storyline is told between the alternating perspectives of Noah and Jude, and through this duality Nelson establishes a sense of true shift between the characters; they are learning the same lessons, even if their bond is in a rut.
  The multitude of art Nelson incorporated into the novel is reason why it's a must read for everyone; she refers to big artists such as Michelangelo, Chagall and Rodin. But each piece serves a purpose in the story, as Nelson connects it on a personal level to either Noah or Jude. Jude develops a love for sculpting, and a favorite of hers is Brancusi's The Kiss. Throughout the book, she relates the sculpture to philosopher Plato's "split-apart" theory, which describes how everyone was born with a specific soulmate.
  This story is not solely about love, or talent, or family. It is about the pluralities of all those themes captured into one; a fantastic novel about life and growing up. I'll Give You the Sun is timeless and heart-stirring, definitely a book for the ages.