A Goodbye Coming Way too Soon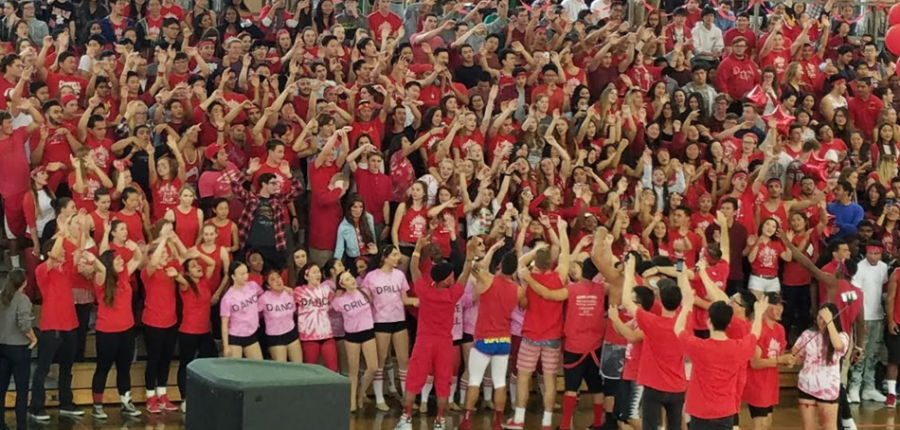 Friday afternoon, the seniors of West High shuffled into the gym, attending the last rally of their high school careers.
The Senior Goodbye Rally commenced with the congratulation of all spring sports teams' performances this last season. Notable players from each sport gave a short speech, including Cody Wissler (12) and Nathan Santiago (12) from baseball, Mia Wyatt (12) from softball, Andrew Hazard (10) from track and field, and Scott Kingham(12) and Vincent Tran (12) from tennis.
After the sport's announcement was the class competition where each class representatives had to run and throw a towel into a hula hoop version of tic-tac-toe, and the first to get three in a row won the game. In the freshmen and sophomore match, the sophomores fell behind to the speedy freshmen, leaving the freshmen to advance. In the senior and junior match, the seniors won the match easily. The finals were met by the freshmen and seniors, ending with the seniors crowned as the victor of the mini-game, boosting their already boisterous presence in the gym.
Next came the announcement of Prom Court which included couples E.J. Hatter (11) and Irene Dominguez (11), Declan O'Brien (11) and Ayah Faqhi (11), Dan Usami (11) and Jehy Ahn (11), Hunter Hargrave (12) and Kassandra Laveaga (12), Kellen Slattery (12) and  Alanna Bledman (12), Keith Vogt (12) and Dajung Oh (12), and finally, Chris Hsiao (12) and McKenna Krews (12).
Alanna Bledman welcomed next year's Secretary of Spirit, Diego Gonzalez (11), who gave a sneak peek of what next year's rallies would be like as he amped everyone with a short speech. Gonzalez later said, "Next year, I plan on making the most of our rallies with better games, better performances, and more competition between classes." He "[hopes] that next year is filled with energy and spirit."
Advanced Dance, Drill Team, All-Male Hip Hop, and Color Guard performed for the classes. The unique routines kept students cheering and Ryan Vo (10) said, "I really liked the way the different groups collaborated because they put on a really good and enjoyable show."
After the performance, seniors threw down to their song of the year "Young Forever" by Jay-Z. Jael Nixon (12) said, "The song of the year was good and it really brought everyone together." The unification of West's seniors was evident as, afterwards, they sang the Warrior Alma Mater louder, prouder, and most of all, happier.
The seniors put an end to a memorable year with a great rally being more unified and joyous than ever.