Freedom for Kenneth Bae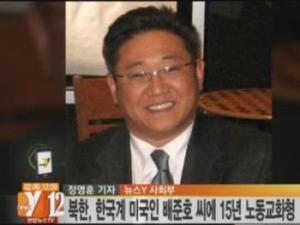 For two long years of being detained in North Korea, forty-two year old American missionary, Kenneth Bae, was finally released and taken back to the United States on Saturday, November 8, 2014. According to newyorker.com, he was arrested in North Korea for "attempting to overthrow the government by proselytizing… The unilateral release of the American prisoners may well have been another line of defense against the threat of criminal charges."
During the few days of Bae's newfound freedom, he surrounded himself with family and food and avoided all that had happened during captivity. Rather than recalling his experiences during imprisonment, "the family and friends who dined with him that first night home just focused on reconnecting with each other," according to washingpost.com.
  Bae's primary goal was to simply return the life he was forced to leave behind for two years. Although he and his family would definitely not ask to go through this again, they tried their best to focus on the positives and not dwell on the negatives. Freekenow.com later reported, "We are thankful that he is in good spirits, and he seems to have retained his sense of humor through the ordeal."
Bae's family continues to show strong faith after his return. Huffingtonpost.com said, "We are thankful to God who gives us hope during dark times. We kept praying for Bae's release and we are grateful to God for God's mercy and grace." They turn to religion for support and remain humble throughout all the publicity since his release.
Bae now directs his attention on the future with a smile and clean conscience. He said, "It's been an amazing two years. I learned a lot, I grew a lot, I lost a lot of weight… I just want to say thank you all for supporting me and lifting me up at the same time that I was not forgetting the people of North Korea… I'm standing strong because of you." Thankfully, Kenneth Bae and his loved ones are able to reunite, move on from these two years, and enjoy their time together.