A Stellar Read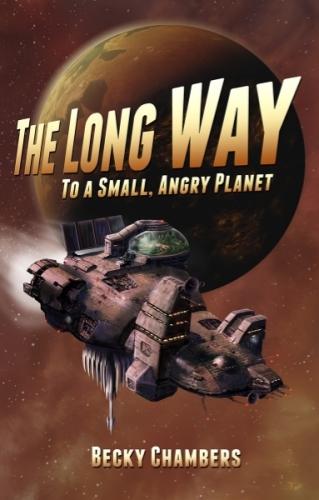 Whether you prefer romance, science fiction, political commentary, or humor, The Long Way to a Small, Angry Planet by Becky Chambers covers it all.
The Long Way is a novel about a human's adventure through space. Rosemary's story begins when she secures a job as a clerk aboard a spaceship. She is shrewd, curious, and strong, and in for much more than she expects.
First, she has to adapt to new people—sentient beings with fish-like scales and aliens with bird-like feathers.
Though many of the characters look anything but human, their motives and interactions are driven by similar issues, like race and gender politics.
For example, some planets have species that are seen as superior—the Aeluon species are considered the most graceful species. The humans, on the other hand, are seen as cold and immature. Nevertheless, the species aboard the ship overcome their differences to work together. Some of them even form romantic relationships.
Chambers said that highlighting these social issues was "definitely something [she] went for intentionally." Since she majored in Social Justice and thought about social politics even before high school, she said that the only difficulty in writing about these politics was "picking which issues to include."
The world in The Long Way, or, more accurately, the universe, is a grand place. It's a place where "nothingness sometimes seemed to shimmer with color and gauzy light" (95). The main character is curious and awestruck—the vivid description of a world unfamiliar to both Rosemary and the readers creates suspense. You won't be able to put down the book.
Constantly being in unexpected situations with new, eccentric people is a situation to which everyone can relate. Though no one has been on the planet of the alien, bird-like Aandrisks or traveled on a worm-hole-producing space ship, people have had to visit beautifully intimidating new countries where (like Rosemary) they have to adapt to new food and new customs. Even meeting people at a new school can be intimidating.
Author Becky Chambers is a West High School and Smoke Signals alumni. She was always interested in space, growing up on "Star Trek" and "Star Wars." Both of her parents have occupations relating to space. Becky Chamber's mother is Nikki Chambers, who teaches astrobiology at West High. In The Long Way, Chambers combines her passion about space with her curiosity about the human species.
"I think a lot about where our species are headed and what the future holds for them," said Chambers.
She wrote frequently in her teens and now has what she calls a "graveyard of stories," some of which she says are not very good. Nevertheless, she advises young writers, "Don't stop. It's an endurance sport, not a sprint." Even if your early stories are not the best, she says, "Each story means something and you learn each time."
The Long Way, in fact, is a product of all of the stories Chambers created and the lessons she learned in the meantime.
The Long Way to a Small, Angry Planet is a fantastic, unique world with colorful characters. Links to purchase her book are at http://otherscribbles.com/thelongway/. It is also available in hardcover at Barnes and Noble.