Getting Ready for Multicultural Day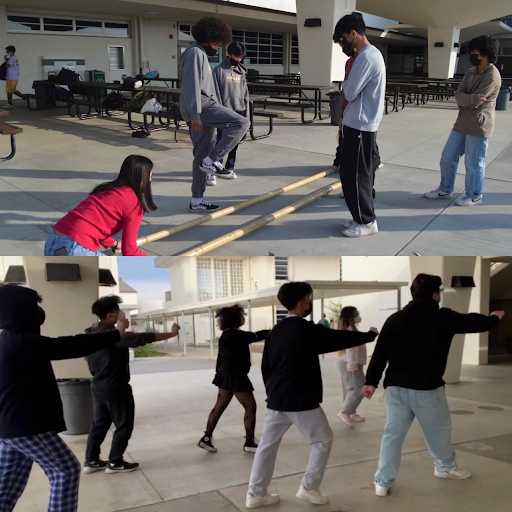 Every year the culture clubs of West High come together to showcase diverse performances on Multicultural Day, sharing important aspects of worldwide cultures. With this year's Multicultural Day coming up on Friday, February 18, clubs have already started polishing and perfecting performances before they hit the stage.
   Among several culture clubs at West, Filipino Culture Club has been working hard to put together a flawless show for the school. Meeting for practices twice a week, club members are currently working on a Tinikling performance, as well as a group hip-hop choreography. 
   According to FCC President Astrid Fontanilla (12), Tinikling is a "traditional Filipino folk dance commonly performed with two bamboo sticks." The dance consists of four performers: two dancers and two people moving the sticks on the floor to follow the beat. The two dancers jump in and out of the sticks to the music. "It's similar to double dutch," Astrid Fontanilla said.
   The club has more than just a traditional dance on their agenda. FCC member and West High All Male dancer Quentin Fontanilla (9) choreographed the club's hip-hop dance along with Kieffer Castro (11). The choreography "is a very swaggy and groovy type of dance to the 'Finesse' remix by Bruno Mars," shared Quentin Fontanilla. The club has performed hip-hop pieces for Multicultural Day annually. Not only are they enjoyed by the student audiences, but Astrid Fontanilla expressed her excitement for the club to "have fun on stage and represent Filipino-American culture to the rest of the school."
   This Multicultural Day, Taiwanese Chinese American Association is planning a fashion show where West "can expect to see multiple different hanfu styles, a variety of qipao dresses, and some han suits," as TCAA President Caitlin Voorhees (11) explained. The club has spent the last couple of weeks gathering outfits and practicing walks. Voorhees noted that "planning for outfits and what the announcer is going to say" has "required a lot of prep work." However, all of the hard work will soon pay off as TCAA puts on a performance of breathtaking traditional clothing.
   Multicultural Day wouldn't be Multicultural Day without Korean Culture Club's iconic K-pop dance medley. With K-pop songs such as Itzy's "Loco," Kep1er's "Wa Da Da," Blackpink's "Ddu-Du Ddu-Du," and NCT's "Zoo" on the setlist, KCC plans to hype up the crowd with exciting music, all while showing off Korean culture. "We really decided to choose their songs based on how much the audience would enjoy them," dancer and club ICC representative Ray Pham (11) explained. "Even though we wanted to dance to songs that we liked and personally enjoyed, we needed to think about whether the audience would like it as well."
   With the return of sports games and practices, finding time for group practice has been a challenge. "It's been a bit difficult to meet up with everyone, but we're pushing through as we go!" Pham said. To accommodate differences in schedules, the club's performers are currently learning the choreography at home on their own to figure out formations when the dancers can meet up.
   With so many exciting performances planned, Multicultural Day at West is definitely an event to look forward to every year. Multicultural Day provides the perfect opportunity to explore other cultures and appreciate our differences, all to be enjoyed on February 18.