Podcasts You Should Listen to in 2022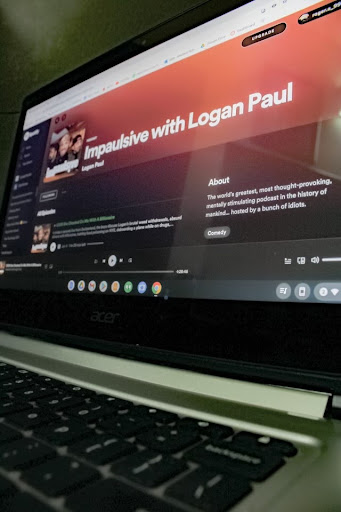 New year, new hobbies! As the new year kicks off, some of us are looking for new activities to start a productive 2022. According to Spotify, in 2021, over 155 million people listened to a podcast every week. Podcasts allow people to listen to their favorite artist or influencer, or simply hear a story or discussion about a topic they enjoy ― and all while doing chores, going to the gym, or driving. That is the beauty of podcasts, and today they are becoming more popular than ever. "Hearing the same beats day by day gets old eventually and sometimes I just want to listen to something else . . . and so I began listening to podcasts," Juan Garcia (12) explained. If you're looking for new podcasts or a new hobby, here is a list of some top podcasts you should listen to this new year:
Anything Goes with Emma Chamberlain
   Unless you live under a rock, you know who YouTuber Emma Chamberlain is. Chamberlain started her podcast in 2020, which includes thoughts, conversations, and advice on topics from relationships to mental health. She also tells ridiculous stories; this podcast is for anyone dealing with the struggles of growing up. "This podcast is so insightful and gives you a different perspective," John Blais (12) shared. 
Crime Junkie
   Crime Junkie is a weekly crime podcast perfect for those obsessed with crime and mystery. The podcast's storytelling is simple and free of rabbit holes, so each episode is easy to follow. If the more you consume true crime media, the more you crave it, congratulations! You're a crime junkie. 
Stuff You Should Know
   Are you one of those people who like to wonder about the immortality of crabs? Or perhaps you enjoy reading the dictionary for fun. Whether driven by curiosity or boredom, Josh and Chuck have you covered. Stuff You Should Know is a podcast that talks about everything you can think of but most importantly, the why or how. If you're looking to gain some knowledge this new year, this is the podcast for you. 
The MadHappy Podcast
   At its core, this podcast aims to create more open conversations about mental health by illuminating the full spectrum of mental health. It features weekly conversations with special guests to remind listeners how much we all have in common. The podcast highlights the high and lows of each person and encourages listeners to be more open about their mental health problems. 
Pod Save America
   Pod Save America is dedicated to informing people about world news. Crooked Media founders are joined by journalists, activists, politicians, and more as they engage in real and honest conversations about politics. They break down weekly news and help people understand what matters and how they can take action. No matter your political beliefs, this podcast will help you know your world and seek knowledge. 
Life Kit
   This podcast by National Public Radio (NPR) is here to help people. From medicine to saving money to dealing with children, the hosts of the podcast talk to experts to get the best advice out there. If you're trying to get your life together, Life Kit is here to help. 
Ongoing History of New Music
   This podcast examines all things music, from the alt-rock universe to pop, to artists and various music genres. If you are a music fan, this podcast was made for you. Each episode takes you on a trip down memory lane to your favorite songs or artists. Whatever the episode, you're going to learn something new about the world of music. 
   No matter what topic or genre you prefer, you can find a podcast perfect for you. As the new year starts, take the time to try new things. Who knows? You might discover a love for podcasting.