Behind the Scenes: Fine Arts Assembly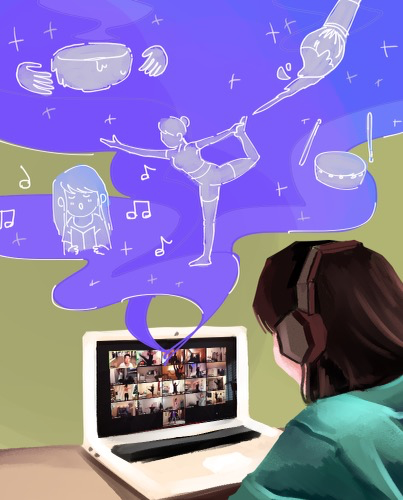 Usually, in a normal school year, West High students would be able to enjoy watching theater put on shows, listen to drumline and marching band play beautiful music, and be amazed by the drill and dance teams. But, this isn't a normal school year. So instead, students enjoyed the gifts and skills of the fine arts department of West through the virtual Fine Arts Assembly. Let's take a look at what went on behind the scenes!
   Mr. Rodich, the West High Choir and Aristocracy teacher, explained the workings behind the virtual fine arts assembly: "Each department was responsible to make a three-minute video to best represent their program." In this way, we were able to enjoy tidbits from each art form, varying from dance to ceramics. For students, this was a way to see the many talents of their peers: "I really appreciated the fact that I was able to visualize all of West High's talented warriors coming together to represent our school and exhibit our talents," commented Simran Bhattacharya (9), who experienced the assembly for the first time this year. Olivia Maes (11), who has seen the assembly in-person before, believed that this virtual aspect opened up new doors, as it didn't limit the talents we were able to see, especially with ceramics and art: "I loved seeing the growth and the foundation everyone has in their works of art whether it's through dance moves or the stroke of a brush. And I loved everyone's individuality."
   But who put this all together into one video? "…Since I have experience putting together the Virtual Winter Choir Concert and Talent Show this year, I offered my assistance with the construction of the Fine Arts Assembly video," said Mr. Rodich. He also went on to comment on the main goal behind the assembly itself: "To showcase the talented student performers and artists, and also to help promote and recruit our programs to the student body. As advocates for the Arts, we also wanted to showcase why the Arts are an important part that makes up West High School." 
   The virtual assembly left Bhattacharya grateful towards the staff and students who contributed in showcasing "what West is really about!" Besides hoping for an in-person assembly in the following years, Mr. Rodich and teachers alike encourage students to join a fine arts class with assurance that they will not regret it.