2021's First Hit Single 'Driver's License'
   Olivia Rodrigo's 'Driver's License' was released on January 7th, 2021 and it hit the ground running. The first hit single of 2021 was released, and it's from a 17-year-old Disney Actress. 
   Prior to her song's success, Rodrigo was known for her debut on the Disney Channel show Bizaardvark. Later, she went on to play the leading role in the Disney+ show, High School Musical: The Musical: The Series. This is where Rodrigo was able to bring her musical talent out into the public. She wrote 'All I Want' for the show and it brought a lot of unexpected attention. According to Interscope, 'All I Want' is gold-certified and has been streamed over 200 million times.  
   Rodrigo noted in an interview that, "It's been the absolute craziest week of my life…My entire life just, like, shifted in an instant," in regards to the week of the song's release. Her life did shift, for a Taylor-Swift-fan like Rodrigo. Her song caught the attention of pop artist, Taylor Swift, who tweeted, in response to Rodrigo's pop hit underneath Rodrigo's Instagram picture of 'Driver's License' hitting No.3 (at the time), "I say that's my baby and I'm really proud." Rodrigo recalled, "I checked my phone and she commented on my photo and I just about died … just about died. Literally, I've looked up to her as long as I can remember, so it was so sweet of her to do that."
   What led to her song's immediate success? Prior to its release, Rodrigo teased fans on TikTok by posting a trailer and announcing the release. In fact, Liana Openano (12) said, "I learned about this song when people on TikTok started talking about [it]." She also live-streamed on Youtube minutes before the song's premiere. But the success of her song still surprised everyone, including Jeremy Erlich, the co-head of music at Spotify, who stated (about the song), "We definitely had no idea how big it was going to be…It just ballooned into this monster, unlike anything I've ever seen before. And I think, unlike anything anyone's seen before." Spotify also contributed to the number of streams of this song by increasing the promotion of the single. 
   The main factor in the success of this song was the relatability factor. For Rodrigo, it was "a little time capsule of a monumental six months she experienced last year," but apparently it was also a part of the lives of the listeners. Openano expressed that the backstory behind the song itself contributed to its success: "This song got popular because it was based on her break up with her HSM co-star and since now he has a girlfriend, it's kind of awkward. People are feeling bad for Olivia because she really loved him." Openano noted that this song was a way of "[Rodrigo] expressing herself."
   To Rodrigo, this only means the start of her musical career and she's glad that it's started off this way. For her, she feels that it's a way to transition out of her acting career, Rodrigo said, "The cool thing about 'Drivers License' is I've seen so many videos of people being like, 'I have no idea who this girl is, but I really love this song,' which has been really interesting for me, because for so long I've really just been attached to projects and to characters, and that's how people know me…It's really cool to be introduced to people for the first time through a song that I feel really passionate about."
About the Writer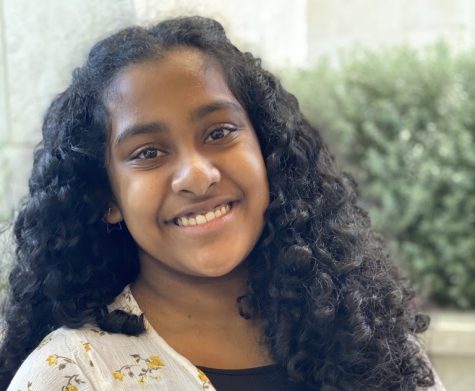 Shrutika Ezhil, Staff Writer
Shrutika Ezhil is a staff writer for West Signals and a junior at West High. This is her first year in Signals and she's excited to help entertain and inform her fellow classmates while collaborating with the West Signals team! Shrutika enjoys swimming, advocacy, boba, and spending time with her family.