The 62nd Grammy Awards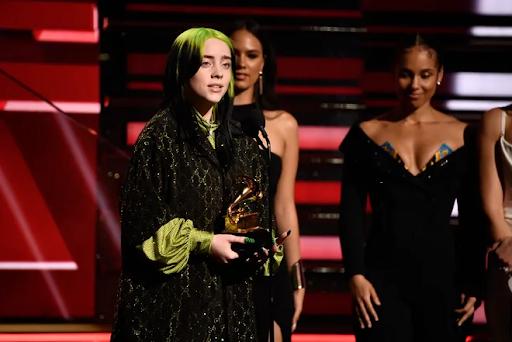 The 62nd Grammys was marked by celebration, passion, and tears. Held at the Staples Center on January 26th, the annual Grammy Awards honored the most successful music tracks, albums, and artists of last year. The ceremony was hosted by Alicia Keys.
The most notable winner of this year's Grammys was Billie Eilish, who swept four major awards, including Best New Artist, in which other nominations included Lil Nas X, Black Pumas, and Maggie Rogers.  She won Song and Record of the Year with "Bad Guy" and Album of the Year with "When We All Fall Asleep, Where Do We Go?"  Eilish became the second artist and the first woman ever to sweep four Grammys in one night.  Additionally, at 18, Eilish made history as the youngest artist to win Album of the Year.
Isabella Santana (10), a viewer of the Grammys, commented, "It's a big accomplishment for women, especially because the Grammys have a history of discriminating against minorities, including women."
Memorable moments included Demi Lovato's heartfelt debut of "Anyone," written prior to her overdose, Lil Nas X and BTS's performance of "Old Town Road," and Camila Cabello's touching song performed for her father.
However, while the Grammys was a time of celebration for the past year's accomplishments and music, the ceremony took time to mourn the recent deaths of Kobe Bryant and his daughter. Lizzo's performance of "Cuz I Love You" and "Truth Hurts" was performed in tribute to Bryant.
The show's host, Keys, remarked, "Here we are together, on music's biggest night, celebrating the artists that do it best, but to be honest with you, we're all feeling crazy sadness right now. Because earlier today, Los Angeles, America and the whole wide world lost a hero."
Maddie Webster (10), who watched the Grammys, said, "I thought it was very respectful, the way that they did it, but I almost feel like everyone honored him who didn't even know him."
Still, despite mixed feelings about the ceremony and earlier controversies surrounding the event, the 62nd Grammys managed to end on a positive note for the music industry.