Black is Beautiful: The Winners of Five Major Beauty Pageants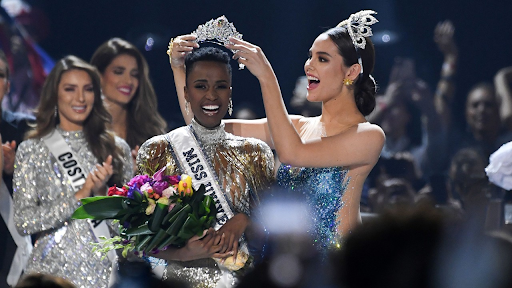 In 2019, black women won five major beauty pageants: Miss Universe, Miss World, Miss America, Miss USA, and Miss Teen USA. As we look back on the past decade, the race has been the focus of headlines, issues, and activism.  It's fitting that the last year of the decade ends with women of color sweeping crowns in major beauty pageants.
The fight against Euro-centric beauty standards has always been an uphill battle; traditionally Caucasian features have been favored by beauty pageants for a long time―big eyes, straight hair, pale skin.
Hilary Levey Friedman, a professor at Brown University who is writing a book about beauty pageants, commented, "The idea of what we think is beautiful has expanded.  Skin color.  Body type.  Curly hair.  If you look at all this year's winners, they look like themselves."
Black women weren't allowed to compete in beauty pageants until the 1940s, and it wasn't until 1984 that Vanessa Williams became the first black woman to win the title of Miss America.
History was already made when Cheslie Kryst won Miss USA earlier this year, marking the first time three major beauty pageants were won by black women.  And on December 14th, when Toni-Ann Singh of Jamaica won Miss World, she was the fifth black woman to win a major beauty pageant this year.  The other titleholders are Zozibini Tunzi of South Africa as Miss Universe, Nia Franklin as Miss America, and Kaliegh Garris as Miss Teen USA.
"It's a symbol," Franklin said.  "It shows that no matter where you're from, what country you're from…you can be successful."
For many of the women, holding a crown in a beauty pageant as a black woman means setting a positive example of diverse beauty for young girls; it means breaking traditional standards of beauty and creating a future of acceptance for all people.  Their victory is shared by not just black women but many people of color as we move toward a future of acceptance.
"I'm happy to see that all races are able to showcase their special talents and given equal opportunity at winning," Meileen Taw (10) said.
Others have more mixed perspectives; although this year's pageant winners mark a positive change, some are more cautious about what their titles mean.
"Yes, we need to acknowledge that in the past people of color weren't treated well," Shrutika Ezhil (10) said, "but that doesn't mean we try to make up for it; we should just learn from it and learn to treat everyone equally.  I'm not saying that's what happened here, but there should be a balance…We should just see them as equal.  This news, itself, shouldn't be a big deal."