Golden Globes 2019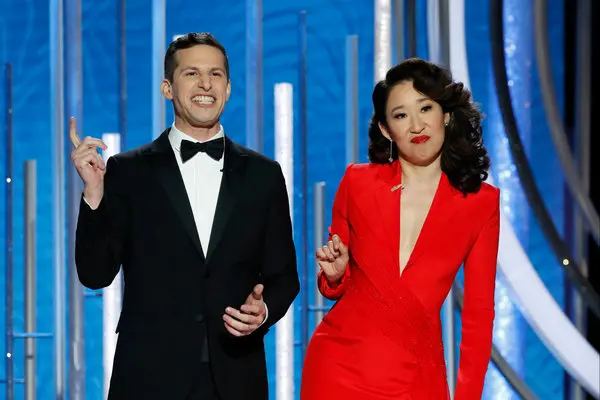 The 76th Golden Globe awards took place on January 7th and was hosted by Sandra Oh and Andy Samberg.  This year's award ceremony was marked with surprising wins, as well as emotional successes and speeches.
  Among the major winners of the night was Bohemian Rhapsody, awarded Best Motion Picture in the Drama category.  This was a surprising win because the movie, though successful, was received with criticism.  Its win was unexpected, and to some fans, disappointing. However, others were glad that the movie was recognized.
  Lindsey Kim (11), who watched Bohemian Rhapsody, said, "I enjoyed the movie.  From what I know of Freddie Mercury, Rami Malek portrayed him well.  Bohemian Rhapsody was done well, even though it had minor shortcomings."
  Another surprising win was Green Book, which took home two awards: Best Motion Picture in Comedy or Musical and Best Screenplay.  This movie also had mixed reviews; some critics praised it and others condemned it. Still, Green Book was enjoyed by many as both a humorous and touching story.
  Host Sandra Oh received an award to take home herself.  Starring in the show Killing Eve, Oh was awarded with Best Actress in a Television Drama.  She delivered a touching speech, bowing to her proud parents and thanking them in Korean.
  A third unexpected win went to Glenn Close, winning Best Actress in a Drama with her performance in The Wife.  Close's emotional speech roused the audience to their feet.  She mentioned, "I feel like what I've learned from this whole experience is, women, we're nurturers, that's what's expected of us.  We have our children, we have our husbands if we're lucky enough, and our partners. But we have to find personal fulfillment. We have to follow our dreams."
  Other notable winners included A Star Is Born, winning Best Original Song with Lady Gaga's "Shallow," and Spider-Man: Into the Spider-Verse, which won Best Animated Film.
  Ian Dai (9), a viewer of the awards, said, "I think the movies or actors/actresses deserved their awards.  In particular, I think Spider-Man: Into the Spider-Verse definitely deserved to win."
  Although the Golden Globes can never fully predict the outcome of other award ceremonies, the wins prompted predictions and speculations for the upcoming Academy Awards, to take place on February 24th.  In the end, the evening was a well-spent one: surprising, pleasant, and touching.