Eminem Rips Donald Trump in Hip-Hop Awards Freestyle Cypher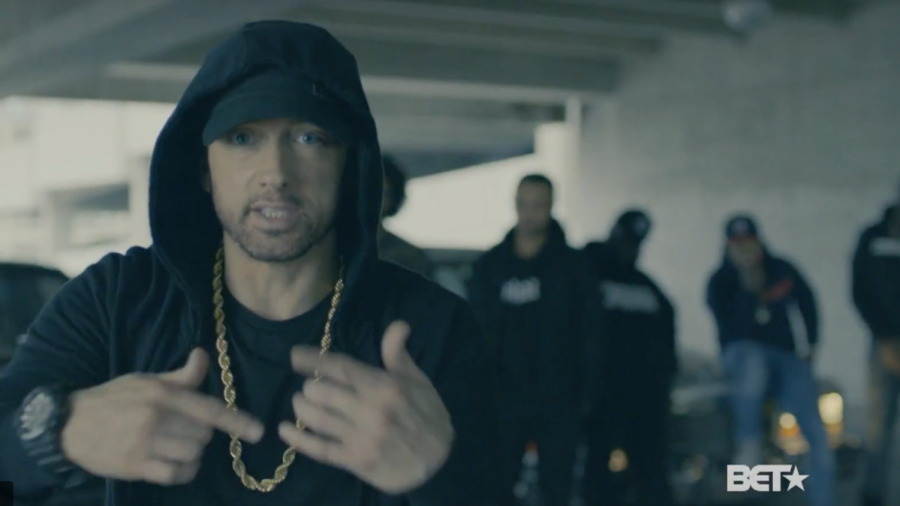 On October 11, during the night of the annual Black Entertainment Television (BET) Hip-Hop Awards, rapper Eminem lashed out at President Donald Trump's political campaign in his music video, "The Storm." The four and a half minute music video was a cypher, which is a brief verse rappers use to gain the attention of the audience during freestyle rap.
  Eminem seen wearing a hooded sweatshirt and  baseball cap with a group of people gathered in the background, targeted Trump of hypocrisy, racial discrimination, as well as his limited actions towards recent events including Hurricane María in Puerto Rico and the rally violence in Charlottesville, VA.
  Despite his strong alluding to the works of Donald Trump, Eminem also called out to his fans who may be Trump supporters and stated, "[A]ny fan of mine, who's a supporter of his, I'm drawing in the sand a line, you're either for or against."
   This is not the only time that Eminem has explicitly called out Trump, and raised controversy. Back in August, during the Summer Reading Festival, the rapper  led the audience into an "anti trump" chant, and made it clear that he could not stand the Republican candidate. Eminem's language and backlash in his songs. "White America" and "Campaign Speech," further display his public opinion.
  Much like how Eminem's lyrics have brought up both backlash and controversy in the past,  this time around is no different with liberals and other black rappers supporting him, while a few white supremacists have showed their disapproval.
  A tweet from Keith Olbermann declared his newfound interest stating, "After 27 years of doubts about rap, I am now a fan. Best political writing of the year, period."
  Steven Arias (11), an individual who enjoys Eminem's music stated, "The mere idea of him being a white rapper actually helps when it comes to the issue of race since he's able to encourage more white males who want to follow the footsteps of future rappers." Arias also added Eminem deserves his four Grammy wins stating, "[H]e actually worked his whole life to get to where he is now plus his music has become an inspiration."
  Fiza Khan (10) agrees about the rapper's positive impact on race in the hip hop world. Khan said, "Eminem raps about his hardships and the truth about the world, in which these topics should not be sugar coated."
  With Eminem's eighth album on its way this upcoming year, it is only a small wait until his creativity is unleashed.