The Death of a Dynamic Duo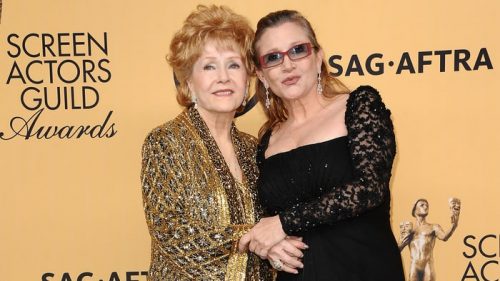 Carrie Fisher, best known for her role as Princess Leia in the Star Wars films, passed away on December 27th after suffering a heart attack on a flight to Los Angeles four days prior. Her mother Debbie Reynolds died a day later, and the world was left to mourn the loss of the two Hollywood legends.  
  Fisher was flying on United Airlines from London to Los Angeles on December 23rd when she became unresponsive after falling into cardiac arrest.  Upon landing, the actress was transported to UCLA Medical Center, where she was put in the ICU. At 8:55 am, she passed away at the age of 60.  
  Reynolds, who rose to fame for her role in Singin' in the Rain, and also well known for playing Grandma Aggie in the Halloweentown series, was hospitalized just hours after her daughter's death and died the next day at the age of 84.   
 The exact cause of Reynolds' death remain unknown. Some say that she suffered from a stroke. But fans suspect that she died of a broken heart.  However, according to US Magazine, Todd Fisher, the son of Reynolds, said that "she didn't die of a broken heart. She just left to be with Carrie."  
  Fans and celebrities alike have taken to social media to honor the late actresses and offer condolences to their family.  Megan Tsubota (10) said, "Even though their deaths came so unexpectedly, I hope they can stay strong, especially Fisher's daughter [Billie Lourd]. I can't imagine what it must be like to lose your grandma and mom within a day of each other."
  Miki Kainuma (12) was also heartbroken about the incident and said, "So many talented people like Prince and David Bowie have already passed away in 2016.  But I'm glad that Reynolds was able to pass peacefully to be with her daughter."
  A private funeral for the mother-daughter duo will be held on January 5th, where they will be laid to rest at the Forest Lawn Memorial Park.