It's a Boy!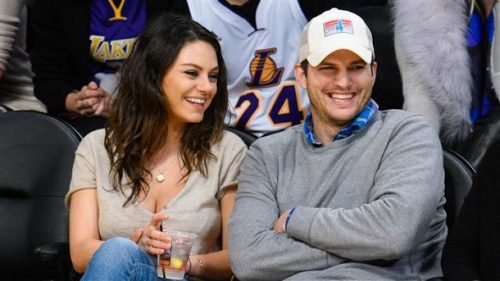 On November 30th, Mila Kunis gave birth to a baby boy named Dimitri Portwood Kutcher. Dimitri is Kunis and Ashton Kutcher's first son and second child. Kutcher announced on his website that Dimitri was born at 1:21AM and weighed in at 8 pounds, 15 ounces.
  It was revealed by SheKnows Dimitri's middle name is in honor of Kutcher's step father, Mark Portwood.
  Kunis and Kutcher have not released any photos of the baby as Kutcher said, "We would like to allow our kids to make their own choices on whether if they want to have a life in the public eye or not."
  Kimberly Arias (10) agrees with Kunis-Kutcher's decision and said, "It sounds like a smart choice. It's their children's life, so it's their decision. I would do the same thing if I was a parent."
  The husband and wife duo met on the well-known TV series That '70s Show where Kunis played Jackie Burkhart and Kutcher as Michael Kelso. In the show, Kunis and Kutcher were a couple for a few seasons.
  Fan of the show, Nathaniel Bustamante (11), said "I thought it made a lot of sense [their relationship] considering they were in a relationship in the show and working with each other for years so it's only fitting that they got together."
  Their first child, 2-year-old Wyatt, was born in 2014. On the TODAY show, Kutcher talks briefly about the baby and how his daughter was understanding the whole pregnancy.
  During the interview, before Dimitri was born, Kutcher mentioned that their daughter, "points to Mila and she's like, 'baby brother' when she points to the belly, and then she points to dad and she goes, 'Beer!'" Kutcher said, "So I think she gets there's something in the belly."
  The Kutcher household have a lot on hand with a second child in the house, but it doesn't seem to stop the family from their celebrity world as Ashton Kutcher's TV series The Ranch is beginning to take off.