Room Full of Angels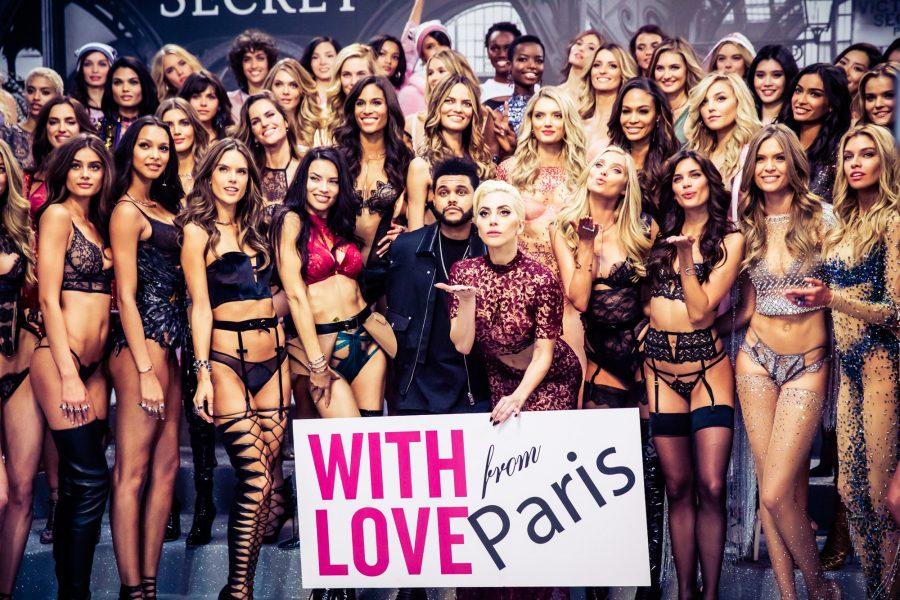 Paris – the heart of haute couture and hot lingerie. It was no surprise when the Angels held their annual Victoria's Secret Fashion Show for the first time in the City of Lights after many years of it taking place in New York City. Booking the show for Paris was difficult due to the ongoing terror threats. Nonetheless, Paris was a key part of the models' motivations throughout the training process so reserving Paris was crucial.
  Before the show, backstage was filled with panic and chaos as an army of hair and makeup artists and stressed out models were in complete work mode. Regardless, the show was full of glam (with a couple wardrobe malfunctions).
  The show kicked off with U2's "Vertigo" singing 'Hello, hello' to the crowd as models walked out in Asian-inspired outfits with Chinese dragons and Japanese kimonos. According to Elsa Hosk, the very first look almost did not happen because the dragon's head and tail that curled around Hosk had presented many difficulties during rehearsals.
  Hosk said, "It was really heavy and really restricting, so I couldn't move freely. When we did the last fitting it still wasn't right, and I couldn't actually walk. We finally got it about 5 minutes before the show."
  A few looks in and Mother Monster herself (Lady Gaga) stepped out with "Million Pieces" before Bruno Mars hit the stage with new single "Chunky." Following Mars, The Weeknd performed hit song "Starboy" as ex-girlfriend and first-timer, Bella Hadid, sashayed down the aisle. Gaga performed two more times with "A-Yo" and "John Wayne," before strutting off in a leather jacket complete with her own set of wings.
  Front row was Balmain designer, Olivier Rousteing, anxiously waiting to see Gigi Hadid and Kendall Jenner walk. He told The Hollywood Reporter that the show is a good distraction for Paris after its multiple terror attacks and threats.
  "It's exactly what I always wish for — fashion, pop culture and music mixed together and all the girls that I love out on the runway. The girls are daring and really being confident in themselves, and that's what Paris needs," he said. Rousteing also went on and stated, "You know what I love about this show is that it's so diverse and so international, it's an honor to the country."
   However, Valerie Corrales (11) believes that after two decades of the show, it should display a better range of diversity. "The first VS models walked 21 years ago and in terms of race and size, the casting has hardly changed," Corrales commented.
  The anticipation is palpable and the hype to see VSFS is intense. We only have slightly less than a week to wait before some of the world's most famous supermodels waltz down the runway in lavishly embellished lingerie. Tune in to CBS on December 5 to watch the glamorous cat walks! Until then here are some behind the scenes pictures of the girls.