Giddy Up Let's Go!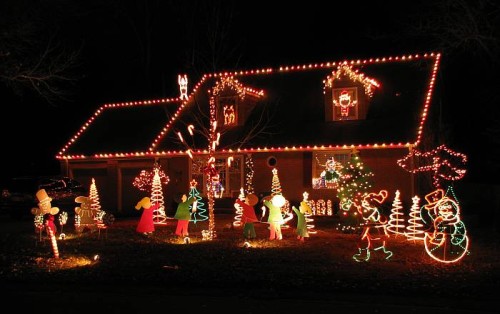 As the most anticipated part of the year draws near, shopping centers, coffee shops, and next-door neighbors all jump in to take part in the holiday cheer. Here are some places to visit during winter break that embrace the holiday atmosphere. Don't miss out on these fun So-Cal festivities before the New Year!
One of the prettiest places to visit at night throughout the month of December is Candy Cane Lane, a neighborhood in south Torrance with homes that are decked out in luminescent, colorful lights and outrageous decorations. Some slowly drive down the lane, while others decide to take a stroll and get a better look at the lit-up snowmen, reindeers, blown-up Santa Clauses, and snow globes, all for free. Tiffany Liu (11) comments, "Candy Cane Lane is one of my favorite places to go during the holidays because all the homes are decorated so beautifully and looking at them gets me into the Christmas spirit!" Some of the residents of these homes stand outside of their homes to sell hot chocolate, cookies, and other snacks, satisfying eager visitors.
In addition to Candy Cane Lane, The Queen Mary ship in Long Beach hosts CHILL. This event features ice-skating, ice tubing, bouncy homes on the ship, and a giant igloo that guests can enter to experience the story of The Nutcracker. Tickets can be bought online until January 5 at affordable prices, so make sure to go and experience this magical ice kingdom before it is too late!
If you are looking for a place to casually hang out while being surrounded by the holiday ambiance, The Grove in Los Angeles is the perfect place for you. Not only can you shop in the mall's various stores, take pictures in front of the 100 foot tall Christmas tree, or just stare at the tens of thousands of lights and ornaments hung all around, but you can visit Santa Claus's cottage and meet the big man himself! Ivan Yi (10) says, "The Grove is a nice place to go around this time because it doesn't feel like you're just at some mall, but somewhere festive and fun." There is also fake snow that falls, allowing you to be a part of a winter wonderland without having to travel far. Abby Klein (9) stated, "The fake snow is probably my favorite part because the mall looks so much prettier and winter-like!"
Instead of staying at home this winter season, go out and get a taste of all of the festive happenings!