Foreign Exchange Students on School Back Home
September 21, 2022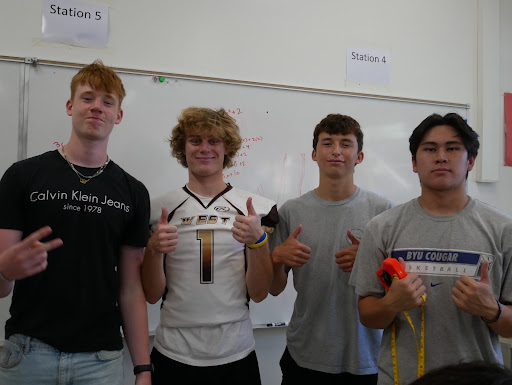 Art/Photo by Jasmin Cuaresma
It was 60 F this morning in Hamburg.
For Germany's second-largest city, that makes for a relatively unassuming September day. Across the beautiful central-European metropolis, millions of Hamburgers put on thin jackets and sweaters, braving the light rain and gentle breeze of late summer.
Not Nico Kleinke (11). As one of West High's exchange students, Kleinke opted to spend his junior year in America's second largest city instead — trading the rivers and trains back home for the beaches and traffic L.A. is so well-known for. For the next year, he will eat, sleep, and learn in Torrance ― entering a world that is fundamentally different from his own ― in more than just weather.
As Kleinke explained, school "doesn't work the same back home." A normal day begins with a commute: many walk, some catch buses, and a handful ride on Hamburg's extensive train network ― unlike Torrance, where you "definitely have to have a car" to do any real getting-around.
According to Kleinke, once you actually get to class in Germany, you stay there. Most of the day is spent in one room ― the teachers come to you, not the other way around. A definite trade-off, considering that the American system gives you a break between periods to "walk and breathe a little bit."
Germany doesn't use the rigid American period schedule, either. Each day, students attend different, longer classes; German might only be on Monday, Wednesday, and Friday, and science might only be on Tuesdays and Thursdays ― similar to our "block schedule" during finals week.
By lunch, students line up at the cafeteria for their 3€ lunch ― a price tag justified by better ingredients and freshly cooked, never-frozen meals. As with so many other students here, Kleinke politely concedes that West's food isn't the best. Sonia Hassan (12), Italian exchange student and Drill Team dancer, would have to agree.
Sonia shares a similar story: born in Italy's second largest city, the elegant, historic Milan, she's spending this year with her host family in Torrance.
There are five "types" of schools in her home country, each with an emphasis on a particular set of subjects:
The Classics (like Latin –– this was Sonia's personal choice)
Linguistics
The Human Sciences
The Arts
The Sciences
Each "type" focuses on more than just its designated theme ― Sonia reported that her school has "something like 12 subjects," each one mandatory. The major upside to the American system, in Hassan's opinion, is the ability to pick your classes ― though West does not offer all of the Italian courses she enjoyed.
Tragically, in Italy, school is in session on Saturdays. To make up for it, though, all the students get to go home to eat. A typical day starts at 8 or 9 and ends around 2 with dismissal and a late lunch.
All else aside, perhaps the most distinguishing feature of our different education systems is what comes after. Tuition at the most expensive university in Italy ― Hassan's local college in Milan ― will set you back around 15,000€ (a 1/4th the price of USC). For Kleinke's part, he joked he "wasn't even sure if university cost anything" in Germany. Student debt is, literally, unheard of.
The stories these two share open a window to other cultures — ones where chicken sandwiches aren't free but college nearly is. The education systems they grew up with are completely different from ours, and according to Klenke and Hassan, we might be able to learn something from that.