West's Cheer Captain on Why You Should Join Cheer
April 24, 2023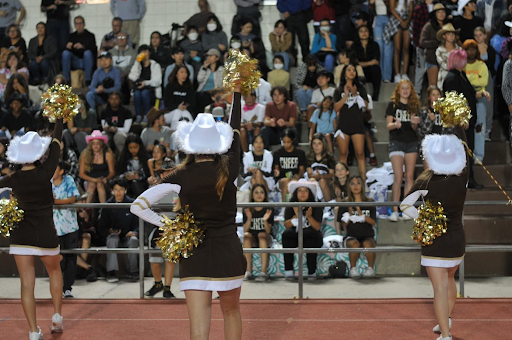 Art/Photo by Bella Levinson
   Cheer captain Eva Reyes (12) has been on the team at West High for four years, and has been involved in cheerleading for the last 15. As her final year on West's team nears its end, Reyes reflects on her experiences and the importance of future team members keeping the program alive. All prospective cheerleaders for next year's team are required to attend three days of mandatory tryouts from April 24-26.
Q: Why do you think someone should join the Cheer Team?
A: I think cheer is a great way to open yourself up and get to meet new people. Especially for me, I think cheer has helped me the most to open up, because you have to be in front of all those people; you can't be afraid to perform in front of people. I think it could help shape you into a better person.
Q: How does the tryout process for cheer work?
A: It's two to three days and you're taught a few cheers and a dance. After being taught, you're given a number and then you're called to try out based on your number, [and] they're going to ask you to perform the dance. They're also going to ask you some questions about yourself. And then you will be told . . . along with the dance, to do one of the three cheers you were taught.
Q: What advice would you give to a first-year Cheer Team member?
A: Definitely during your first year, you're gonna be confused about everything. So I would most definitely ask a lot of questions. Ask the returners, ask the coach, ask anyone, and don't be afraid to reach out, no one's gonna judge you.
Q: Why do you think cheer is important for the school to have?
A: I think it's a great way to get to meet new people, because everyone has different personalities and different interests. I [also] feel like we play an important role at school because not a lot of people always know what events are happening. So I think it's a great way to get the word out, and just show support for school activities.
Q: What are some qualities that future cheerleaders should have?
A: I would definitely say as long as a person is super friendly and super nice because obviously you're not gonna want to be around someone who doesn't have the best attitude . . . It may take a while for you to gain that confidence, but, eventually, you will get it, it just may take some time.
Q: Is any experience required to join?
A: We don't require any experience. You don't have to worry about all this stuff . . . just get the dance, and then get the cheers down, and even if you mess up you still have a very good chance to have a part on the team.