Eyes on the P(r)i(z)e: West High's Pi Day Contest Brings Competitive Spirit to the Classroom
March 24, 2023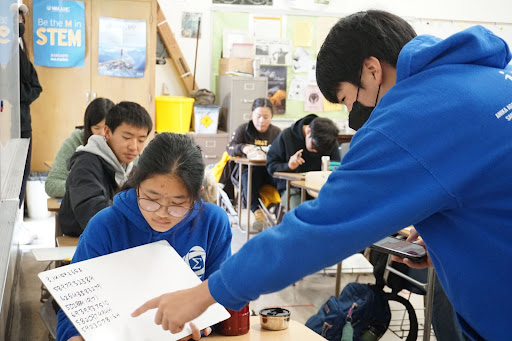 Hunched over chipped whiteboards with black EXPO markers in hand, on Tuesday, March 14, the contestants of West High's Math Club's Pi Day competition quickly scribbled line upon line of — you guessed it — pi digits, as the stakes and the numbers rose higher. 
   The tradition of holding a Pi Day competition dates back to before COVID-19, but the competition's turnout dropped due to social distancing and lack of in-person events. In spite of previous setbacks, past challenges weren't a deterrent for Math Club to continue the competition. Eager contestants quickly filled the room, incentivized by the promise of pie (as in the dessert, of course) and the natural pull of competition. Runner-up Sue-Yan Chin (10) described how the desire to win outweighed her early doubts: "At first, I didn't really want to put in the work to memorize so much, but I saw other people practicing and I got competitive." Chin further recounted feeling "proud to have gotten second place," but also slightly let down, partly credited to the fact that she had lost to her own brother Yit-Meng Chin (12) "by over 100 digits." Constants and judges alike were in awe when he presented them with over 200 digits he had memorized. "There were too many so they just decided to call it right," Chin laughed.
   Learning didn't stop at the contest. Math Club also hosted an afterschool "Deriving the Origins of Pi" activity to further the curiosity of students interested in the behind-the-scenes history of pi. Math Club President Anika Agarwal (12) explained that her aim was "to make the session very hands-on, where the audience experienced the journey of how pi digits are calculated." The session began with reviewing how pi-calculation methods had developed over time, leading into a hands-on activity where participants divided the circumference of circles by the diameter, resulting in an approximation of pi. Agarwal further detailed how they reviewed ideas of the great mathematician Archimedes, in which his method "uses geometry to approximate the circumference of the circle and then again the diameter to approximate their ratio, and thus pi." She highlighted how knowing the history behind certain concepts or events could lead to more curiosity about the subject, and thus new potential discoveries just waiting to be explored. "Doing what mathematicians did centuries ago generates curiosity about the subject. It tells us that this is not rocket science, but real ideas and experimentation with things we already know," Agarwal stated. 
   Though the subject of math can be a daunting one in the eyes of students, Agarwal expressed her hope that they would eventually come to view math as something to enjoy rather than avoid: "I hope we all don't fear math, but make friends with it."