Record-Shattering Heat Wave Symptomatic of Climate Change
September 19, 2022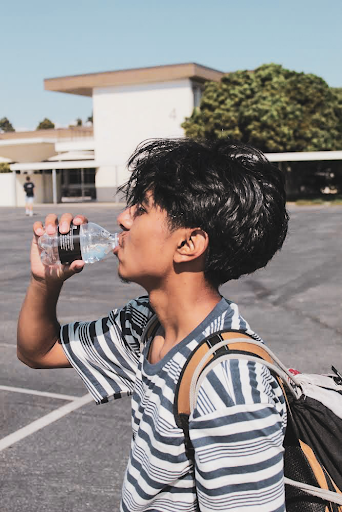 Art/Photo by Christopher Huston
   Last week, a blistering heat wave scorched the South Bay, shattering historic records and threatening the nearly 145,000 residents of Torrance with the potential of intermittent power outages, prompting state-wide Flex Alerts. In Torrance alone, residents flirted with temperatures as high as 108 F during the Labor Day weekend, per an AccuWeather report. With Governor Gavin Newsom tweeting on September 6 that "[t]his heat wave is set to be the hottest & longest on record in CA for September," new concerns have emerged as to whether the remnants of Hurricane Kay, which made landfall on Friday, September 9, will either truncate or prolong this extreme weather.
   According to the Governor, last week's record heat wave will not be the last. Coupled with California's chronic drought and the prevalence of wildfires, the South Bay—despite its close proximity to the coast— is no exception to the extreme weather occurring in other parts of the state.     
   Mrs. Cortina, a former science teacher at West High and current long-term substitute, recounted that when she was a teenager living in the Inland Empire, "temperatures [were] much higher than in a beach city," but noted that "we were used to a particular temperature range." While there were some "discrepant climate events" on occasion, there was not at all a steady upward trend that is currently being observed, Mrs. Cortina explained. 
   While it is tempting for many to conclude that the Torrance Unified School District could simply install air conditioning at its schools to mitigate the heat, Rithika Yalla (11), a member of West High's Environmental Club, has evaluated that this form of remedial action is fraught with negative effects. Namely, individual air conditioning units emit hydrofluorocarbons, a type of greenhouse gas, which, when used excessively during events like a heat wave, can be ecologically harmful. 
   The unprecedented magnitude of last week's heat wave, climate scientists have pointed out, are troubling signs of the broader climate crisis, which has compounded extreme weather events in recent years. Yalla posited that "we're disturbing the natural process" through a variety of anthropogenic activities: burning fossil fuels, factory farming, and overusing agricultural pesticides. A prime example, Yalla added, is how in Pakistan, "almost three-fourths of the whole country is flooded, and they're showing [Pakistanis] that are dislocated right now."
   Although the Environmental Club is just getting started for the new school year, Yalla shared previous campaigns spearheaded by the organization to spread awareness about environmental conservation and the exigency of climate change: "A couple years back, we had a[n advocacy] program to ban plastic water bottles that they give out at school," in addition to recycling campaigns, responsible disposal of electronic waste, and clothing drives. 
   Moreover, as part of the Environmental Club's commitment to advocate for sustainability and address future events like the heat wave, Yalla proposed that the club could create advertisements posted on social media and collaborate with outside, climate-action initiatives to host guest speakers, remarking that "our events are only as successful . . . as more people know about it," 
   This then begs the question as to whether the current science curriculum does enough to address and engage students on the looming problem of climate change. In response, Mrs. Cortina referenced the implementation of the Next Generation Science Standards, which requires students to be "proficient in earth science, where climate science is studied." Mrs. Cortina also stated that many fields of earth science, from Environmental Science to Biology, cannot be studied "without taking into account the changes we see in the climate that are ongoing." 
   Aside from the curriculum, Mrs. Cortina expressed that West High should be a "model for the community," citing the installation of irrigation systems that use recycled water and West's native garden that requires minimal water to maintain. She  hopes that West can encourage people to conserve "by showing them that there are better ways to do things with water."
   On a more serious note, Mrs. Cortina warned not to think of climate change as merely affecting local weather: "It isn't just a one-dimensional problem." Providing ominous portraits of what is yet to come if society does not exercise diligence, Yalla predicted that an influx of climate refugees could engender humanitarian crises like the one seen in Pakistan. 
   Likewise, Mrs. Cortina speculates that rising sea levels will "cause the inundation of a lot of cities," disproportionately impacting developing countries and island nations that lack adequate infrastructure; species will develop aberrant migration patterns, potentially entering cities and introducing "new pathogens to human populated areas"; along with a myriad of other grave repercussions.
   If last week's heat wave is any indication, California is in a precarious position: Climate change will continue to exacerbate conditions, manifesting itself in longer droughts, blazing infernos, torrential downpours, and cataclysmic floods, leaving only destruction in its path.