Athlete of the Week: Zachary Mercieca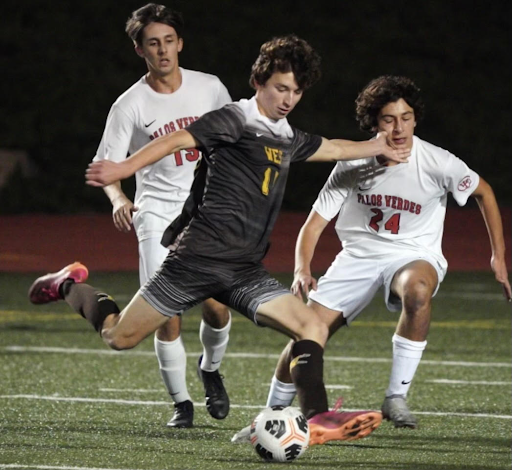 Pick up the speed, rush past the opposing team, and kick! Another goal has been scored by none other than Zachary Mercieca (11). Mercieca, a forward on the field, has been playing soccer for 13 years, and has made multiple outstanding achievements in his time with the sport.
   Not only representing West High, Mercieca has been playing club soccer for Beach FC for years. Incredibly talented and a hard working player, Mercieca dedicates his entire life to the sport. "It takes my mind off of a lot of things and having great teammates along the way makes it such a good experience," Mercieca explained. Having soccer as a way to blow off steam as well as form new friendships has kept him drawn to the sport all this time.
   Fellow Varsity Soccer player Dane Paulson (11) has been playing alongside Mercieca since elementary school. Having been teammates for so long, Paulson has seen Mercieca grow immensely as an athlete. "Since first grade, we've played [soccer] at recess together… his patience with the ball has gotten better, as well as his vision," he recalled. "[Mercieca] is quick, agile, and can get by players very well." Additionally, Paulson made sure to note that Mercieca is "very fun both on and off the field," and expressed his appreciation as both a teammate and a friend.
   Coach Shimizu, West High Boys' Varsity Soccer coach, has spent the last three years coaching Mercieca, also watching him improve: "Since [Mercieca's] freshman year, his confidence in his abilities has continued to grow. He has also become a better skilled, all-around player…Weaknesses he had as a freshman are now abilities that his opponents need to respect." Furthermore, Coach Shimizu also commented on Mercieca's performance this season: "He has become a better player with balls coming to him out of the air."
   Looking back on his own growth, Mercieca finds himself with several notable moments in his time playing soccer. One of his proudest accomplishments is being selected for the Olympic Development Program several times in his years as a soccer player.
   Adding onto a life full of soccer achievements, Mercieca was also recently voted as the Daily Breeze Boys' Athlete of the Week, after scoring "three goals in West's first four games, including a pair in a 4-2 win over Hawthorne." Smiling back on this nomination, Mercieca shared, "It was just a great feeling to get selected." However, he added that he "couldn't have done it without the help of [his] teammates."
   After nonstop hard work and an entire high school career of Varsity Soccer, Mercieca plans on taking the sport with him once he graduates from West High, with his main goal being to "play Division I soccer at the collegiate level."