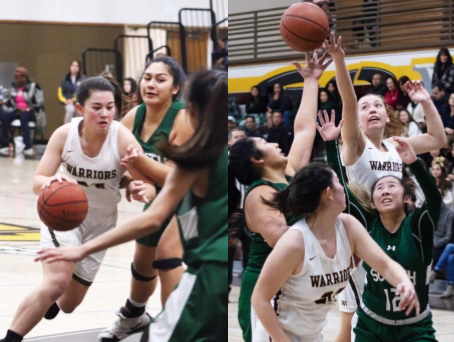 In the past month, West High Girls' Varsity Basketball team played in CIF round three and semi-finals, advancing to state.
   In round three on February 19th, the team played away against Bishop Montgomery, which is locally ranked among the top ten.  The game was close until the end, but West won 82-75, qualifying for state and marking a resounding victory.
   The Bishop Montgomery game was won through the teamwork and dedication of each and every team member. A few players that especially showed their drive to win included Anaya James (11), who scored more than 30 points and Nicole Chuang (9), who shot four three pointers and helped turn the game in West's favor.
   "Each player did their part in aiding the success of the game, no matter how many minutes they got," team manager Allie Meehan (11) said.  "Basketball cannot work without teamwork."
   Meehan also mentioned Ella Estabrook (10) and Jessica Yamashiro (10), who put forward a strong defense and contributed to the team's victory.
   On February 22nd, the team continued their season and played away against Harvard-Westlake in the CIF semifinals.  The team held together and played a close game, but ultimately ended up losing 64-47.
    "It didn't go as smoothly as we hoped," team member Kaila Uyemura (10) admitted.  But even though West lost the game, the Warriors remained resilient and determined.
   Uyemura mentioned Piper Takenaka (11) as an especially notable player: she ran a strong defense guarding the opposing team's post player and fought her hardest throughout the game.  However, each member of the team contributed substantially and played with resolve; basketball is always a team sport.
   West was able to compete in CIF by winning the league games.  The team stands in Division 1, one of the top divisions. Though West did not win semi-finals, winning round three of CIF automatically moved the team to the state level.
   "Getting far in CIF and state is any team's goal," Meehan added.  "When we lost at Harvard-Westlake, each player was sad. Yet, it provides more motivation to go further in the future next year."
   West's Girls' Varsity Basketball team fought for their victories and successes, creating a team of players dedicated and passionate about the game.