Basketball Loss Inspires A Look Ahead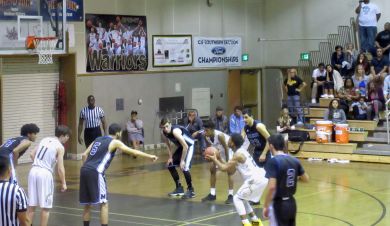 The West High Warriors Boys' basketball team lost away against the Helix Highlanders Saturday night with the score of 82-65 in the 2017 CIF State Boys Basketball Championships tournament.
 At the end of the first half of the game, the Warriors were losing 35-22 to the Highlanders.
  "The [Highlanders] were a really good team because they scout players from California. They were strong, fast and athletic" stated guard Justin Hight (11) when describing the opposition.
  In the third quarter, West actually outscored the Highlanders 24-21, but the Warriors were still behind 56-46 when the quarter ended.
  The momentum of the third quarter carried into the opening minutes of the fourth quarter.  
  "We didn't shy away.  We went at them and didn't stop the game.  [We were]…  always in a ten point range and brought it down to six at one point," said Hight.  
  In the end, the Warriors lost the game to the Highlanders.     
  Head coach Neal Perlmutter explained why the Warriors lost the game.
"We had a hard time stopping [the Highlanders'] big man, Miles Norris (11). We wanted to play fast on offense but that allowed him to get out in transition and get easy buckets.  On our side Alex [Mishaw (10)], Noah [Carroll (12)] and Nick [Snyder (11)] played well but we couldn't get enough stops in the second half."
  Perlmutter looked back at the expectations going into the season and how his players have developed into CIF champions.  
  "Nobody in the South Bay expected West to win CIF this year.  But we set that goal last May and worked towards it every day.  I'm really proud of the commitment the boys
made to each other.  They came to practice every day ready to work hard and improve."
  Reflecting on the season, guard Nick Snyder (11) stated,  
  "Winning CIF and going to state was something the basketball program hadn't dreamed of before this year. It's amazing to be part of a team that made history. All that said, what really made this season special was the
camaraderie on the team. We're all family now and that's something you can't take away from us."
  Perlmutter believes the team will continue to grow despite the players that are graduating this year.  
  "We will return [with] two All-CIF (Alex [Mishaw] and Nick [Snyder]) players along with Justin Hight – essentially three of our top seven players from this year.  There are also several really strong players moving up from JV.  On top of that, we have some juniors on varsity from this season that didn't play a lot but are primed to make a big impact next year."
  The West High Warriors Boys' basketball team will continue working to improve over the offseason and will hopefully win CIF again next year.